St Johnstone boss Tommy Wright brands Rangers' Pedro Caixinha 'paranoid'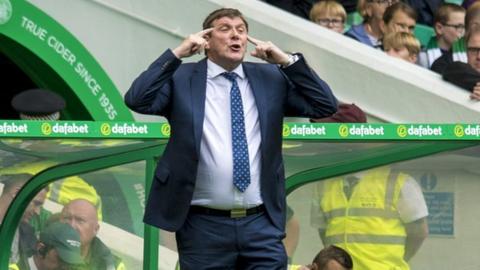 St Johnstone manager Tommy Wright says his Rangers counterpart Pedro Caixinha is "paranoid".
Caixinha claimed on Wednesday that someone from his camp leaked his starting line-up to Saints the last time they met.
But denying that claim, Wright said: "What he's talking about in terms of us getting their team last season, is just someone that's paranoid.
"I didn't get his team last season, it surprises me that he says I did."
Ahead of Rangers' trip to face St Johnstone on Friday night, Caixinha claimed that last season the Perth outfit had been given his starting line-up which allowed them to delay their training and tailor it specifically.
Wright says that did not happen and accused Caixinha of a lack of respect.
"We didn't change our training regime, we didn't wait for them to finish training to get the team," he said.
"It just didn't happen, so I now know what 'fake news' means, because it didn't happen.
"He obviously has problems, he says there's a spy in the camp, and it looks like he has a spy in our camp to be able to say we changed training, but that's duff information because it never happened.
"We tried to second guess their team, which all managers do, but under no circumstances was I given the team or change training the day before the game because I do the same preparation, and it didn't happen.
"The comments are wrong and untrue about another manager at another club, and maybe someone should look into that because he has no proof."
Rangers travel to Perth with the sides level on 14 points in the Premiership after eight matches.
The Ibrox men are third in the table, ahead of Saints on goal difference, and Wright says Caixinha should be focused on chasing Aberdeen and Celtic.
"His mind games are working, he's enrolled in some university course in Portugal so they must be telling him that's how they deal with things," Wright added.
"His focus should be chasing Celtic and making sure they don't get 10 in a row, rather than trying to play mind games and not showing respect to another manager.
"Because when you tell untruths about another manager, that's not showing respect, and really that should be his focus.
"My team don't need silly comments to motivate them. Our motivation has always been to win the game."