Celtic: Brown, Armstrong & Simunovic set to face Bayern in Champions League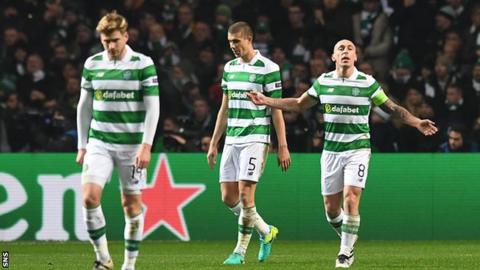 Celtic manager Brendan Rodgers believes Scott Brown, Stuart Armstrong and Jozo Simunovic should be fit for next week's Champions League tie with Bayern Munich.
All three withdrew from international duty through injury and are unlikely to feature against Dundee on Saturday.
"They've come through very well," Rogers said about Brown and Armstrong.
"They will join training, [it's] maybe too soon for Saturday, but certainly for Bayern Munich they should be fine."
Brown and Armstrong sat out Scotland's final two World Cup qualifying matches, with the national team beating Slovakia but drawing 2-2 in Slovenia to end their hopes of reaching the play-offs.
Simunovic was also missing as Bosnia and Herzegovina's 2018 World Cup chances came to an end following a defeat to Belgium, before a win over Estonia in their final group match.
"He, like Scott Brown and Stuart Armstrong, will very unlikely be involved for Saturday, but all three should train and hopefully be ready for Bayern Munich," Rodgers said.
"It was never an injury that was going to keep him out for a sustained amount of time, but he just felt something and he stayed behind to get treatment."
Rodgers was named Premiership manager of the month for September after leading his side to three wins and one draw in the league, including a 2-0 victory over Rangers at Ibrox. He also secured a League Cup win over Dundee and an impressive 3-0 triumph over Anderlecht in the Champions League.
"It was a very busy month, [but] I thought the players were outstanding in the focus they put into all the games," Rodgers said.
"We had a real tough game at the end of it all against Hibs and we still came through that and managed to get a point, so I accept the award on behalf of the staff and the players and everyone at the club.
'The players are very hungry for winning'
"The programme of games since we've come back in June has been very demanding physically, but we have a team of people here medically and we all work very closely with all the players in order to get the best possible team out to get the results.
"There's a huge amount of credit goes to the players for their ability to adapt and perform in every competition they play in and to get the best out of every game.
"It makes me very satisfied that you can see the professionalism of the players, when they can be out the team for a few games, and for some players not even on the bench, but when they're asked to come in and play and perform they do that.
"That's what you need if you're going to be successful as a team and the players are very hungry for winning."