Rangers: Dave King 'does not have funds required to make share offer'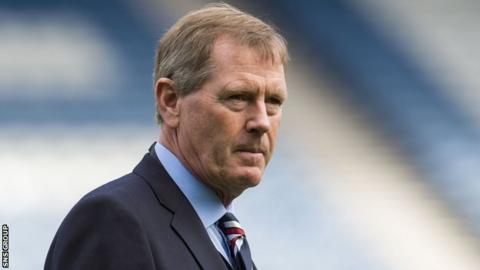 The Court of Session in Edinburgh has heard that Rangers chairman Dave King does not have the £11m-£12m required if he is ordered to make an offer for the remaining shares in the club.
The Panel On Takeovers and Mergers says King has not complied with the law.
Advocate James McNeill QC wants Lord Bannatyne to order King to comply with its Takeover Code, by offering all shareholders 20 pence a share.
He said financial investigators believe they have established that Mr King acted "in concert" with three wealthy fans - nicknamed the "Three Bears" - when he took control at Ibrox in 2015.
The 2006 Companies Act dictates that entrepreneurs who hold a 30% stake in businesses are compelled to make an offer to buy remaining shares.
But King's own counsel says such an order would be pointless as his client doesn't have access to the £11m-£12m required to underwrite such an offer.
The case relates to a tumultuous period towards the end of 2014 and at the beginning of 2015 when a series of share purchases led to King and his allies being able to oust the existing board.
Though King insisted he was not working "in concert" with George Letham, George Taylor and Douglas Park, the Takeover Panel disagreed and informed King he was expected to make the offer to remaining shareholders in the club's holding company, Rangers International Football Club.
King has since dismissed this claim, adding that it was a trust - New Oasis Asset Limited (NOAL)- and not King himself, who had acquired 15% of Rangers shares.
On Thursday Mr McNeill, QC for the Takeover Panel, outlined evidence of the group working in concert, including an email from Letham to King, raising the possibility that the purchase of shares from Laxey and Artemis would take them over 30%.
Mr McNeill also outlined a trail between King and a variety of trust funds, which he said pointed to King being in control of New Oasis Asset Limited, although the Rangers website also states that King and his family are interested in all of NOAL's shares.
Lord Davidson of Glen Clova QC, counsel for Mr King, did not, however, seek to prove that he, Letham, Taylor and Park did not act in concert, nor that King was not in control of NOAL.
Instead he asked the court not to make an order, since any order would be futile as Mr King did not personally have access to the £11m-£12m required to underwrite the offer, as his assets were tied up in a family trust.
Lord Davidson told Lord Bannatyne the upshot of ordering King to make the offer would be that King would end up in contempt of court for being unable to comply.
He also claimed King was potentially unaware of the implications of crossing the 30% threshold, despite the issue being raised by Mr Letham.
The case will continue on Friday.