Liverpool v Man Utd: BBC Sport readers pick combined XI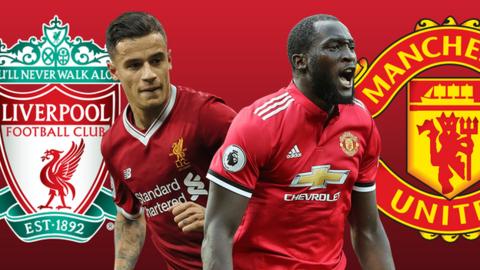 Two multi-million pound squads, one starting XI.
With Liverpool hosting Manchester United in the Premier League on Saturday, we merged both groups of players in our selector tool and asked you to pick the strongest side possible.
About 80,000 of you chose your preferred team, with Manchester United's players proving much more popular.
Only two of Liverpool's team made BBC Sport readers' starting line-up.
Goalkeeper - a De Gea landslide
Some selections were difficult, but when it came to choosing a keeper there was only ever going to be one winner.
An overwhelming 96.5% of "managers" chose Manchester United and Spain number one David de Gea.
Liverpool have been rotating their keepers but Simon Mignolet, who usually starts ahead of Loris Karius in the league, was almost 80,000 selections behind De Gea, being included in just 2.6% of teams.
Defence - no faith in Liverpool's back four
It is seven games since Liverpool kept a clean sheet and manager Jurgen Klopp is consistently criticised for failing to address his team's perceived weakness at the back. It is an area Phil McNulty discusses here in his review of the German's two years at Anfield.
If defence is Liverpool's weakest position, it is an area where United - as so often is the case with Jose Mourinho's teams - have demonstrated strength.
They have conceded six goals in 11 games this season, and only twice in seven Premier League matches. Along with Manchester City, theirs is the best record in the top flight while, despite Liverpool being seventh, only West Ham and Crystal Palace have conceded more than them.
It is no surprise then that Manchester United players fill all four defensive positions.
Antonio Valencia was the overwhelming choice at right-back, included in 60% of teams in that position.
Eric Bailly and Phil Jones take the centre-back slots. Joel Matip was the third most popular choice, though he was picked about 20,000 fewer times than Jones, meaning that was a clear-cut decision.
Perhaps the toughest defensive choice came at left-back, where Luke Shaw got the nod despite making only one appearance - as a substitute in the EFL Cup win over Burton - this season.
The former Southampton player was picked at left-back by 14.6% of people, just pipping Daley Blind, Ashley Young and James Milner.
Midfield - power, skill and speed
The most difficult selection decisions came in midfield.
The 4-4-2 formation was the most popular and Nemanja Matic and Paul Pogba were way out in front as the top picks in central positions.
The wider areas were less clear-cut, with Philippe Coutinho and Sadio Mane among a group of players picked in large numbers in different positions, owing to their flexibility.
But it is the Liverpool pair who take the other two midfield slots, with Henrikh Mkhitaryan just missing out. The Armenian received more than twice as many votes as Adam Lallana, who did not even come close to making the team. There was no place for Mohamed Salah either.
Attack - Lukaku plus one other
Sixteen goals in 13 games for Romelu Lukaku this season - he has only failed to score in one match since moving to Old Trafford - means the powerful Belgian was the second most popular pick overall.
He made it into 90.3% of teams - only De Gea featured more often.
The 4-4-2 formation afforded space for a strike partner for Lukaku and, while the selections were split among a host of players including Zlatan Ibrahimovic, Roberto Firmino and Anthony Martial, it was Marcus Rashford who got the nod.
Not had a go yet? Pick your XI
Pick what you think would be the best team and share it with your friends.
My Manchester United-Liverpool XI
Manchester United host Liverpool this weekend in the Premier League. Select your combined starting XI - and then share it with your friends using our team selector.
Can't see this selector? Visit this page.