Premier League: More than half of fans pay £30 or less per match - study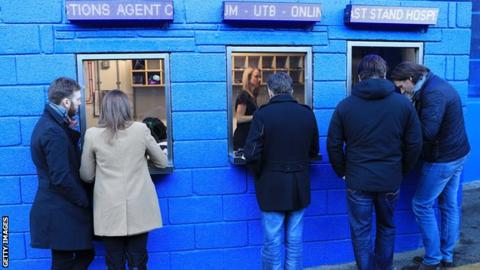 More than half of Premier League fans are paying £30 or less per match to watch English top-flight games this season, according to new research.
The average price for a ticket is £32, the study by the Premier League and Ernst and Young found.
The average price for an away ticket is £26, with 33% sold below the £30 cap agreed by clubs in March 2016.
Concessions and offers - including early-bird and loyalty - make up 34% of all season tickets sold.
"This research shows the excellent value clubs are offering and the impressive commitment of their fans," Richard Scudamore, Premier League executive chairman, said.
"I hope it will challenge commonly held perceptions about the cost of attending Premier League football, and encourage even more people to consider going to a match."
Last season the same study found the average price of a ticket was £31.
The research has been compiled using data provided directly by the clubs, including the cost of every ticket already sold or available this season.
It includes all parts of Premier League stadiums, except hospitality areas, and includes all ticket types sold or available. All matchday tickets include booking fees or admin charges.