Paul Lambert insists Scotland should have stuck with Gordon Strachan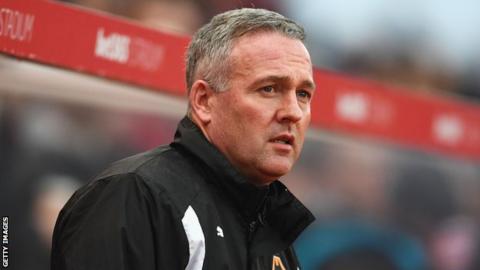 Paul Lambert says Gordon Strachan was "the ideal" national manager and insists the Scottish FA should have stuck by him.
Former Wolves, Blackburn Rovers, Aston Villa and Norwich City boss Lambert has been linked with the vacant post but says he has not thought about it yet.
"I don't think it's right Gordon left, whether through his own accord or other things," Lambert told BBC Scotland.
"I think he was doing great, the national team was on a high."
Strachan left his post as Scotland manager on Thursday, four days after his side drew 2-2 with Slovenia, a result that denied them second spot in World Cup 2018 qualifying Group F and a possible play-off spot.
The Scots fell short despite dropping just four points from their their last six qualifiers.
"The last 14 points out of 18 was great form, the lads were excellent in those last few games," added Lambert. "It was just the start of the campaign that hurt them.
"The momentum is there and I thought Gordon would have stayed on, I never saw that coming.
"I thought they had the ideal man."
Lambert left Wolves in May this year and while he is planning a return to football, he insists he has not thought about the possibility of replacing Strachan as national boss.
"Scotland is my country, I had great times playing with some great players for Scotland, working for great managers," he added. "I really enjoyed my time there but it's not something I've thought about, as someone losing their job is not nice.
"There have been one or two things that I've actually turned down already, and once I know I'm ready to come back then I'll come back. This time out has been great for me as I go round different clubs in Germany and look at what they are doing.
"I've come over to watch teams train here and that's important for me."
The 48-year-old Lambert, who played in Scotland's last major tournament appearance at the 1998 World Cup in France, says it is "absolutely ridiculous" that the nation's absence from the big stage will stretch beyond 20 years.
And he is convinced there is one quality the next national boss must have.
"The most important thing for me is you try to get the best guy that understands the Scottish culture, the way it works, the Scottish league," he said.
"Whoever it is has got to have a knowledge of what's in Scotland and what's in England. It's important they have that background."