Alan Mannus does not think Michael O'Neill will take Scotland job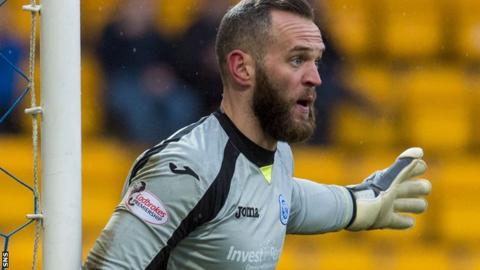 St Johnstone and Northern Ireland goalkeeper Alan Mannus understands why his international manager Michael O'Neill is in high demand.
Edinburgh-based O'Neill, 48, has been linked with the Scotland job following Gordon Strachan's departure.
But Mannus feels he might fancy a crack at a top-level club rather than jump ship from Northern Ireland to Scotland.
"It's a positive thing for Northern Irish football he's being linked to other international jobs," said Mannus.
"He'd do a good job, so who knows."
O'Neill has a long association with Scottish football, having played with Dundee United, Hibernian and St Johnstone and having managed Brechin City for two years in 2006.
He then went on to manage Shamrock Rovers of the League of Ireland Premier Division, before moving on to take charge of his national team at the end of 2011.
Recently he guided Northern Ireland to the European Championships and they are on the brink of qualifying for the World Cup in Russia next summer, having reached the play-offs after finishing second in their group.
And Mannus, who has been a constant member of the Northern Ireland squad since making his debut in June 2004, although only earning a handful of caps, believes that recent success is down to O'Neill.
He told BBC Scotland: "I don't think there's a secret [behind Northern Ireland's success]. I think it's down to what the manager has done.
"For the first two years he came in the team weren't really any more successful than before, but that was really the beginning of things starting to turn round for us in terms of performances."
Mannus admits O'Neill is able to select experienced players, some of whom ply their trade in the English Premier League and Championship, but acknowledges the role the manager's influence has on the squad.
"It's all [English] Championship or Premier League [players] and maybe a couple in League One," he said.
"They all have a lot of experience now especially after the Euros, but it's probably just the manager and his organisation and having everything planned.
"He has everything laid out for the next two years about where he thinks he can pick up points and what you need to qualify. It worked for the Euros and it got us this far as well."
However, Mannus believes O'Neill's next move will be at club level.
"If you look at what he's done with Northern Ireland, no-one else has really done anything like that in the last 20 years or so and with such a small country," said the goalkeeper.
"I had him as a manager at Shamrock Rovers and I know that he loves being a club manager so I would imagine that he would want to get back into that at some point.
"You'll need to ask him if he'd take it [Scotland job], but in my opinion he'll look to get in to a club somewhere next at a high level and he'll get a good club job somewhere."
For now O'Neill will be focused on guiding Northern Ireland to the World Cup in Russia. The draw for the play-offs is on Tuesday, and Mannus cannot wait to discover who his country will face.
He said: "We can get Switzerland or Italy, the two biggest teams, but we tend to do quite well against the biggest teams.
"Denmark and Croatia wouldn't be considered quite as big but it doesn't matter who we want because we can't affect it so we'll just wait and see."