Wigan Athletic: Whelan family sells club to International Entertainment Corporation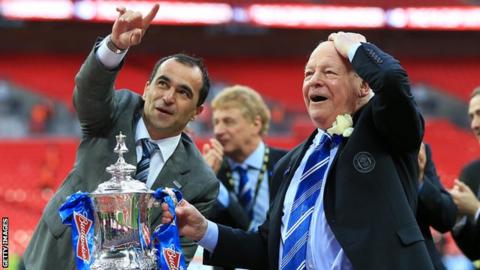 The Whelan family have sold Wigan Athletic to Hong Kong-based company International Entertainment Corporation for £22m after 23 years as owners.
The Latics were bottom of the fourth tier when Dave Whelan bought them in 1995, but won three promotions in 10 years to reach the Premier League.
The announcement comes after chairman David Sharpe said he would step down once the takeover was completed.
Former Everton boss Joe Royle and his son Darren will now join the board.
Darren will replace Sharpe as chairman, while Joe will become a director.
In a statement, IEC said the purchase of Wigan Athletic is a "good opportunity to further diversify their group". Their business interests include hotel operations and leasing of properties across Asia.
Wigan spent eight successive seasons in the Premier League between 2005 and 2013 and lifted their first major trophy, the FA Cup, three days before being relegated from the top flight.
Off the pitch, Whelan also funded the construction of the 25,000 all-seater DW Stadium, which opened in 1999 at a cost of about £30m.
Whelan, now 81, stepped down as chairman of the Latics in 2015, leaving his grandson Sharpe in charge.
More recently, Wigan have twice won the League One title in the past three seasons and are currently 16th in the Championship.
A 'special' story
Roberto Martinez both played and managed Wigan, most notably leading them to their 2013 FA Cup victory against Manchester City at Wembley.
The Spaniard was in charge between 2009 and 2013 and went on to manage Everton and later Belgium.
"It's a very special story, what happened at Wigan Athletic, and I don't think we'll see it again," Martinez told BBC Radio Manchester.
"It's difficult to explain in words and do it justice. Dave Whelan is and was the reason Wigan achieved what they achieved. He had an incredible vision, he was a winner and everything he did was done properly, and that was contagious.
"When you see what happened in his 20-year reign it is quite incredible, it's why we're all involved in football."
Analysis
BBC Radio Manchester's Wigan Athletic commentator Paul Rowley:
It will be a hard act to follow the Whelan family. From the basement of the Football League to the top tier in a decade, staying there for eight years, lifting the FA Cup and then playing in Europe takes some beating.
But you can see why the change had to take place. Emotion aside, you can't keep spending £7 million pounds a year just to keep yo-yoing between the Championship and League One, and maybe it was time to move on, and allow someone else to oversee the next stage of the journey.
Yes, the supporters will have their reservations. Why is an entertainment company from the other side in the world investing in a provincial football club slap bang in the middle of a catchment area that includes some of game's giants? How deep are their pockets? Will the new owners make the same bold prediction as Dave Whelan did when he arrived and proclaim their target will be to reach the Premier League?
There are pluses. The infrastructure of the club is solid. The retention of Chief Executive Jonathan Jackson, a 'Tics fan since his schooldays, is a good start, and will provide the continuity in the boardroom. In Paul Cook, they've got a first-rate manager, who understands the Wigan psyche, having joined the club as a 17-year old.
The squad of players is strong, not withstanding a series of hamstring injuries of late. Staying in the Championship is the first priority. Keeping hold of "the Wigan magician" Nick Powell and club captain Sam Morsy, who are in the last year of their contracts, will be another.
And despite the departure of 'King' Dave and 'Prince' David (Sharpe), the club now have royalty in the boardroom. Well, you've got new Executive Chairman Darren Royle, and his dad Joe, a North West legend who, like Mr Whelan, has actually played the game.