Chelsea v Roma: Why Radja Nainggolan could derail Blues' Champions League hopes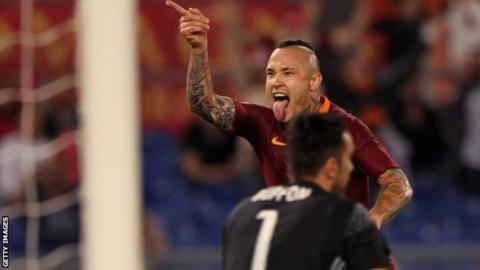 Chelsea v Roma, Champions League Group C
Venue: Stamford Bridge Date: 18 October, 19:45 BST
How to follow: Updates on BBC Radio 5 live; text commentary on the BBC Sport website
When Antonio Conte was appointed manager of Juventus he explained his philosophy as follows: "We have to eat grass." Not just cover every blade, but gobble it up as if they were dots in the Pac-Man game.
He wished to build a team in the image of the player he was for the Old Lady. It's the starting point at every club he goes to. Just look at the title of Conte's biography. "Head, Heart and Legs."
Arturo Vidal, Chile's "warrior", personified that style at the Italian club and N'Golo Kante is the player closest to it at Chelsea at the moment, even if it contrasts with his nice guy persona.
As Conte watches the tape of Roma in preparation for Wednesday's game in the Champions League at Stamford Bridge, he will see another all-action midfielder in this mould.
It's a player to whom he needs no introduction. After all, Conte went out of his way to sign him for Juventus and did everything possible to bring him to Chelsea. His efforts were in vain.
That player was Radja Nainggolan, the Ninja, although his nickname is only partly down to his ability to elude Conte.
How much is he worth? As much as Pogba
The past 18 months have been the best of Nainggolan's career. Already a fixture in the Serie A Team of the Year since 2015, he has reached new heights.
From a rampaging bite-your-legs midfielder, Nainggolan has evolved into something more. "A Gattuso who scores goals," wrote La Repubblica's venerable columnist, Gianni Mura.
Sorry, this content is no longer available.
From spring 2016 to the end of last season, he hit 20 goals from midfield. Putting that figure into some perspective is the fact Nainggolan scored just 18 times in his previous 10 years of club football.
The transformation is, in Nainggolan's own words, "the invention of Luciano Spalletti" who, shortly after returning for a second spell in charge of Roma, persuaded Miralem Pjanic and Nainggolan to swap positions.
It meant Belgium's rough diamond played further up the pitch in a role you'd usually associate with a number 10. But as Nainggolan explained to Il Romanista: "I'm not a trequartista. The players who tend to play there are like Ronaldinho."
Spalletti's genius came in recognising the value of having a ball-winner of Nainggolan's predatory instincts so close to goal. He tried something similar a decade ago with Simone Perrotta, who spent most of his career with Roma and won the World Cup with Italy in 2006.
But with Nainggolan the results were even more spectacular. Spalletti talked about Nainggolan as "the evolution of the species" in football and he wasn't referring to tattoos, mohawks and shaved eyebrows.
"He can do everything," Spalletti said. "I'm convinced that if you had 10 Nainggolans, you'd have a great team because the position he plays doesn't matter."
Asked how much the 29-year-old might be worth, Spalletti had no doubts. "As much as Pogba," he said, which in hindsight was maybe a bad thing, because Spalletti wanted Nainggolan every bit as much as Conte when he moved to Inter Milan in the summer.
Snubbed by Martinez
If managers of Conte and Spalletti's calibre would have no problem paying tens of millions for Nainggolan, why isn't Roberto Martinez selecting him for Belgium when he can do so for free?
Nainggolan's name has been conspicuous by its absence from Belgium's past two squads and the decision has not gone down well with some supporters. Banners were unfurled during the Cyprus World Cup qualifier last week saying "Martinez still not clever" and "Bring back the Ninja".
He has spoken about wanting "to explode" after Martinez apparently gave the justification over the phone that he did not get the impression the Roma midfielder was serious enough about the national team.
Nainggolan was late for a team meeting before a qualifier with Estonia "by 37 seconds" but "I'm not the only one," he told Het Nieuwsblad. "It's happened with other players." And besides "there's always something", such as the fact Nainggolan smokes and isn't ashamed of it.
As for the parties in Ibiza and the nightclubs in Rome, Nainggolan isn't going to pretend to be someone he's not. "I've got no desire to be at home like everybody else - work-home, work-home, work-home. I think you need to enjoy life when you can and let loose every now and again," Nainggolan told Rolling Stone.
He is careful about picking his moments. If it affected his game, he wouldn't have played 90 minutes every week and performed to the standard he has for Roma over the past three and a half years.
Nainggolan believes Martinez is guilty of double standards. To earn a call up you have to play regularly for your club. Unless you're Youri Tielemans, who has started just twice for Monaco. And you have to play in a major league. But not if you're Axel Witsel, who left Russia for China.
Martinez can get away with it for two reasons: first because of Belgium's strength in depth and second because of the manner in which the team qualified for the World Cup, with nine wins and a draw from 10 qualifying games.
One title in Rome in worth 10 anywhere else
Nainggolan could have lined up for Chelsea on Wednesday just as his old Roma team-mate Antonio Rudiger will at Stamford Bridge. At Euro 2016, Nainggolan let us in on a secret that Belgium team-mates "[Thibaut] Courtois and [Eden] Hazard are trying to convince me to go to London with them". But Italy has become Nainggolan's second home.
Aged 15, he left Germinal Beerschot, the same club where Tottenham's Toby Alderweireld, Jan Vertonghen and Moussa Dembele first emerged, and joined Piacenza.
"I was under-appreciated in Belgium," Nainggolan claimed. "People thought I was inferior to the others who ended up not making it. I was right [and they were wrong] and I owe a big part of it to Italy because they gave me the respect that I was missing in Belgium for a long time. The Italians accepted me very quickly and I will never forget that."
Nainggolan's life has been far from easy. He comes from a tough council estate in Antwerp. His Indonesian father walked out on his mother and twin sister Riana when he was still a boy. Lizy, his mother, had to hold down two jobs to put food on the table.
She died in 2010 and of all Nainggolan's tattoos the one he cherishes most are the angel wings on his back in memory of her. After meeting his wife, a Sardinian, while playing for Cagliari, Rome is now home for the Nainggolans. It was for Riana too.
As with brothers and sisters Christian and Louise Eriksen, and Manolo and Melania Gabbiadini, Riana has a football career of her own and was on the books of Res Roma.
For Nainggolan, winning something in Rome would be more meaningful than following his friends, Pjanic and Mehdi Benatia to Juventus or Courtois, Hazard and Rudiger to Chelsea, where resources make lifting a league title more probable.
"The other day before the game against Atletico Madrid," Nainggolan told Il Romanista, "[Belgium team-mate] Yannick Ferreira Carrasco asked me why I stayed. 'Because I have everything,' I replied. The club want to get better. I want to win. It's a club with great tradition. We're the capital of Italy. It can't go without winning for so long. I'm sure it'll happen soon."
And when they do, Roma will party, having not won it since 2000-01. It is like Francesco Totti used to say: "A title in Rome is worth 10 in Milan or Turin."