Wigan Athletic: League One club on brink of £20m takeover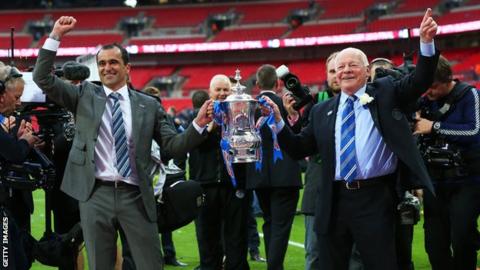 Wigan Athletic could be under new ownership by the end of the year after Hong Kong-based investors agreed a takeover deal worth in excess of £20m.
The sale of the League One leaders is now subject to due diligence and approval from the Football League.
Owner Dave Whelan took control in 1995 but the 80-year-old brought in former Manchester City chief executive Garry Cook earlier this year to find a buyer.
It is hoped a deal will be done before the January transfer window opens.
When he bought the then Division Three side, Whelan said he would take them into the Premier League - and achieved the feat within a decade.
During that time, they left their Springfield Park home for a new stadium, which they share with the Wigan Warriors rugby league side.
They remained in the Premier League for eight years and won the FA Cup in 2013.
But, three days after winning at Wembley, Wigan were relegated and have since alternated between the Championship and League One.
Whelan resigned as chairman in March 2015 and was replaced by his grandson David Sharpe.