Rangers 'disrespectful' to Kenny Miller, says striker's agent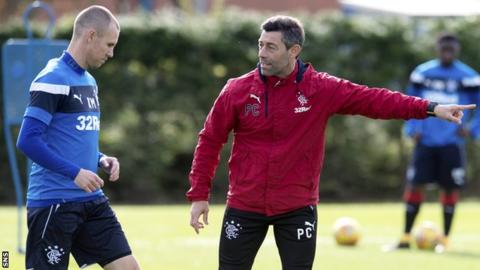 Kenny Miller's agent has publicly criticised Rangers, saying the Scottish Premiership club have been "disrespectful" to the veteran striker.
Miller has missed Rangers' last two games following a disagreement with manager Pedro Caixinha.
The 38-year-old was ordered to play for Rangers' under-20s against Brentford.
"The inferral that this guy above is anything other than one of the best professionals of the last 20 years is a joke," said David Baldwin on Instagram.
Miller was left out of Rangers' squad for their win at Hamilton Academical after a disagreement that came in the wake of a 2-0 defeat by Celtic after which Caixinha criticised several of Rangers' Scottish players in a meeting.
The Portuguese said last week that, following a meeting with the former Scotland striker, Miller remained "one of ours" and had responded "with full respect".
But Miller was again missing from the squad for Friday's 3-0 win over St Johnstone.
"If @rangersfc have a 'leak,' 'rat', or a 'traitor' in the ranks then they should say who it is and deal with it rather than leave one man hung out to dry," said Baldwin.
"To make those accusations and then leave Kenny out of the squad and not say a word is embarrassing - and then do it again!
"Looks pretty obvious to me where the leaks come from."
However, Caixinha later said Miller was missing after picking up an injury.
"Kenny was a question of precaution, he trained okay before the match and then did a sort of treatment on Friday and now he's four days further on so he is able to start training today (Tuesday)," the manager told Rangers TV.
"He pulled something in a finishing drill last week, something on the hamstring."
Baldwin finished his post with several hashtags, adding: "#shambolic #hungouttodry #nameandshame #naughty #disrespectful".
"Tired of phone call after phone call from journalists asking me to comment on Kenny being the dressing-room leak," he added later.
"The biggest pile of nonsense ever. There is my comment!"
Former Celtic defender Lee Naylor, who works for the same agency as Baldwin, replied by saying there was no "better and more honest pro" than Miller.
Miller has scored twice this season but has not found the net in his last seven appearances.