Jose Mourinho: Manchester United manager plays down PSG speculation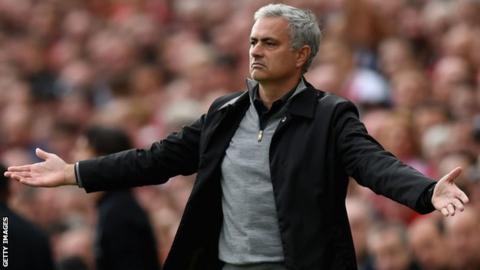 Manchester United manager Jose Mourinho has distanced himself from speculation he is keen to move to Paris St-Germain.
The Portuguese told French television on Sunday he would not end his career at Manchester United and that he was "still a coach with ambitions, and with the desire to do new things".
When asked about his comments on Tuesday, he said he was not leaving.
"I'm not signing a new five-year contract and I'm not leaving for PSG," Mourinho, 54, said.
In Sunday's interview with TF1's Telefoot, Mourinho had praised the French club and said his son had chosen to go and watch a match there rather than in Manchester.
"Why Paris? Because there's something special. Magic, quality, youth, it's fantastic," he said.
Speaking before Wednesday's Champions League match away to Benfica, Mourinho said the English media "have the answer".
"Because in one day it says that I'm going to sign a five-year contract, £1bn per season, and then the next day you say that I'm leaving and I'm going to Paris St-Germain.
"I think that's the answer - the answer is that nothing is happening."
Mourinho, who is in his second season with the Red Devils, has never spent more than four years in one spell at any of his seven clubs.
'A big contradiction'
Mourinho was also asked about Liverpool defender Dejan Lovren's accusation that United striker Romelu Lukaku deliberately kicked him in the face during Saturday's 0-0 draw at Anfield.
"My honest view was he did it on purpose," Lovren said on Monday. The Football Association has not taken action over the incident.
Mourinho, however, said: "There is a big contradiction.
"He said let's move on and forget what happened but then he spends 10 minutes talking about what he thinks happened and didn't happen.
"For me, the FA committee is there to make decisions, so I have no comment."
'Football loses meaning when things like this are happening'
Mourinho expressed sympathy for his compatriots affected by wildfires that have raged across Portugal.
At least 36 people died after hundreds of fires spread across central and northern areas on Sunday and Monday.
"It's difficult to accept and live with this," former Porto and Benfica manager Mourinho said.
"What words can I add to the Portuguese people?
"The only thing I could say is that if I could exchange a football match result for the lives of people, and the terrible things that are happening, I would.
"Football loses meaning when things like this are happening.
"My deepest thoughts are with the people who have lost their lives and I send my strength to the people who are still struggling."