Eniola Aluko: FA bosses set for inquiry over Mark Sampson investigations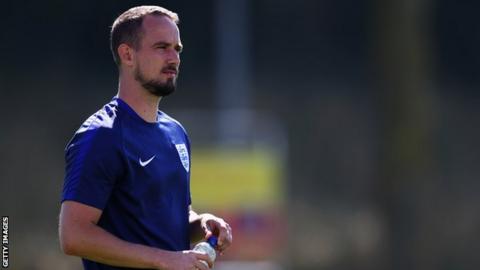 Football Association bosses are set to face a parliamentary inquiry on Wednesday over the investigations into former England women's boss Mark Sampson's alleged racism and bullying of Eniola Aluko.
The Chelsea Ladies striker - and her ex-England team-mate Lianne Sanderson - have also been invited to give evidence to the Digital, Culture, Media and Sport Select Committee from 14:30 BST.
FA chairman Greg Clarke, chief executive Martin Glenn, technical director Dan Ashworth and human resources director Rachel Brace will then answer questions from MPs.
On a day of potentially huge significance for the reputation of the governing body and its most senior officials, the FA will also reveal the findings of barrister Katharine Newton's reopened investigation into the claims, after hearing new evidence.
Sampson, who denies the allegations and was cleared of discrimination by two inquiries, was sacked last month for "inappropriate and unacceptable behaviour" in a previous job.
How did we get here?
Aluko has not added to her 102 England caps since making her claims in 2016 as part of an FA inquiry into its management culture.
The 30-year-old accused Sampson of belittling her, making racist remarks to both her (in the form of a comment about her Nigerian family and the Ebola virus) and a team-mate. Aluko also said she suffered "victimisation as a result of reporting discrimination".
Sampson, 34, said his conscience was clear, and denied being a racist.
Aluko subsequently reached a settlement of about £80,000 with the FA, which insisted it was to avoid the threat of an employment tribunal disrupting the England squad's preparations for Euro 2017.
Following an internal review that cleared Sampson, Newton reached the same conclusion, but the FA faced calls for a more thorough investigation after it emerged key witnesses had not been interviewed.
Aluko claimed Sampson asked mixed-race England midfielder and Chelsea team-mate Drew Spence whether she had been arrested during a tournament in 2015, a claim he also denied.
Spence subsequently submitted evidence to support the allegation, forcing the FA to reopen the investigation, and Newton has now decided whether that is enough for her to change her original verdict - or clear Sampson for a third time. Her updated report will be published at the start of the hearing.
With the controversy intensifying, Sampson was dismissed last month for unspecified "inappropriate and unacceptable behaviour" with female players in a previous job at Bristol Academy in 2013.
It emerged that, following a complaint in 2015, a safeguarding assessment found the following year that he did not pose a risk, but the FA's leadership said that having been made fully aware of the details of the claims made against Sampson, he could no longer continue in his role.
The FA insisted its decision was not related to Aluko's claims, but sports minister Tracey Crouch described the situation as "a mess".
What are the big questions?
MPs are likely to ask some of the following questions:
Why did the FA hire Sampson without knowing about a previous investigation into his conduct in Bristol, and whether sacking him was merely a convenient way to shut down the controversy over the Aluko claims
What precisely he did back in Bristol
Whether they expect Sampson to sue for unfair dismissal
Why a highly successful manager was sacked for something the FA was fully aware of in 2015, and why it took so long to take that decision
Why neither Ashworth - Sampson's line manager - nor Glenn thought to inquire why the manager had faced a safeguarding investigation when they were first made aware of it
Why Aluko was dropped by England just days after making complaints about Sampson's treatment of her
Why did Brace suddenly warn Aluko about another FA investigation - into her consultancy role with a football agency - a day after meeting her to discuss the Sampson claims?
Why Drew Spence and other key witnesses, such as Lianne Sanderson, were not interviewed by either Ashworth or Brace in the first investigation, or Newton in the second
Why the FA allowed such a clear conflict of interests when Ashworth gave evidence to that same internal investigation which he was leading in 2016
Why Clarke seemed so dismissive in a leaked 14-word email when questioning why the Professional Footballers' Association had written to him about their concerns that the original internal inquiry into Aluko's claims was "a sham" and effectively a cover-up
Why the FA paid Aluko £80,000 when Sampson had been cleared and whether it was 'hush money'
Whether it has withheld some of that payment because of Aluko's interviews with the BBC and the Guardian
What the saga says about the FA's overall governance, its treatment of whistleblowers, its internal grievance processes and allegations of racism, its crisis management, its safeguarding, and its commitment to the women's game