Michael Cooper: Teenage goalkeeper relishes 'brilliant' Plymouth Argyle debut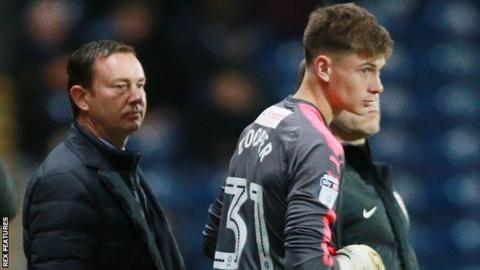 Plymouth Argyle's teenage goalkeeper Michael Cooper has described his first-team debut as a "brilliant" experience.
The 18-year-old, who is fourth choice at the League One club, came on at half-time after an injury to Kyle Letheren and did not concede as the Pilgrims drew 1-1 at Blackburn Rovers.
Injuries to Luke McCormick and Robbert te Loeke saw Cooper move to the bench.
"I wanted to at least get on the bench once," Cooper told BBC Radio Devon of his expectations for this season.
"So far I've been on the bench more than once and made my debut, so it's been a really good start to the season."
Cooper joined the Pilgrims at the age of 10 and has been a regular in their development side, which plays in the South West Peninsula League - the 10th tier of English football.
"It feels brilliant. It's still surreal, I'm still shaking," added Cooper.
"It's a massive change from the Peninsula League in regards to everything, but you've just got to take every day step by step and keep working hard.
"It was whirlwind, ball after ball you've just got to keep focusing and focusing. There's no second to take your mind off the game at all at this level. It's unbelievable."
'A terrific young goalkeeper'
Argyle manager Derek Adams was quick to praise his entire side after the draw, which came after a similar result against league leaders Shrewsbury Town on Saturday:
"We had a special team tonight, not just the starting 11, but also the substitutes as well.
"We had to change with Michael Cooper and he's come on and made a few fantastic saves as well.
"He made an outstanding save at the end of the match, it went through a ruck of bodies and he couldn't have seen it early and his reflexes were outstanding," added the Argyle boss.
"He's a terrific young goalkeeper, he's got potential to go far and tonight he's shown that he's been able to handle the pressure."