Scottish clubs receive cash windfall thanks to Celtic's European run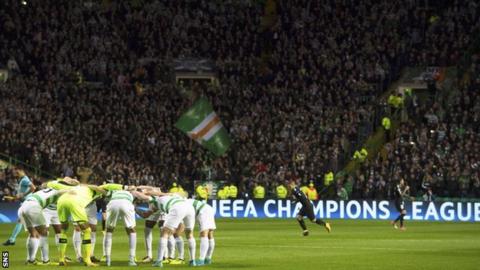 Celtic's 11 top-flight rivals from last season will receive around £375,000 each thanks to them reaching the Champions League group stage.
European football governing body Uefa will make the 'solidarity payment' of £4m on Thursday.
The injection will be timely for Hamilton Academical, who have been the victims of a serious fraud.
It caused their directors to pay bills from their own money while police and their bank investigate.
Scottish Professional Football League chief executive Neil Doncaster said of the Uefa windfall: "This is very welcome news and a further sign that clubs prospering in European football is a boon not just for them but for others in the Ladbrokes Premiership too.
"Having a Scottish representative in the group stages of the Uefa Champions League enhances the profile of the SPFL and brings financial benefits to other top-flight clubs via these solidarity payments."
The 11 other sides who played in the SPFL's top division last year will each receive the largest such sum ever paid out to Scottish clubs.
This year's total is more than double the £1.8m received last year and is 10 times the total of £400,000 paid out by Uefa to SPFL clubs in 2015.