Swansea City: Nathan Dyer wants to prove point to former club Leicester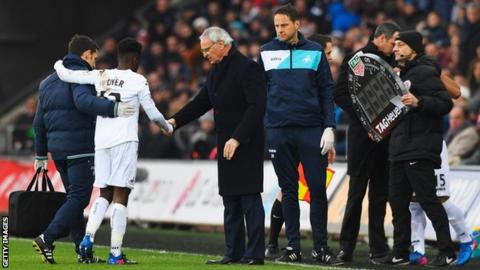 Swansea City's Nathan Dyer is preparing to meet former club Leicester having gone from winning the Premier League title to being unable to kick a ball around with his children.
Dyer's season ended in February after he suffered a ruptured Achilles against the Foxes, who he had helped to the Premier League title in 2016.
The winger only returned in Saturday's 2-0 win over Huddersfield.
"I've seen the highs and lows. I've got a lot of stories to tell," he said.
Return from injury
Dyer's fortunes over the last two years sum up the highs and lows of football, with a place on Leicester's memorable bus tour celebrations followed by a lengthy spell on the sofa.
Dyer was expected to be like a new signing for Swansea after his loan at Leicester, but he experienced a truncated season, making only 10 appearances before the Achilles injury that would sideline him.
The injury was so serious that surgery was required and he could not walk for nearly two months and could play no part as the Swans successfully battled Premier League relegation.
"I had to have a cast and a boot on for six weeks. I had to sleep with it and had it on during the day. I couldn't walk and it's hard when you've got kids who want to play with you," he said.
"I couldn't walk for seven weeks and after that I was on crutches. I've got two boys - three and 18 months - and they want to play football with you.
"It's been eight months now and it was nice to get back out there and get a feel of football again.
"It's very hard because the boys are out training and you're on your own. You're inside with the medical team and it can get daunting, but fair play to them they've helped me through that and given me some time away to come back and feel fresh. Being in the same four walls every day can be really hard."
Winning the league
As well as looking to make up for lost time with Swansea, Dyer feels he has a point to prove to Leicester ahead of Saturday's visit to the Liberty Stadium.
Dyer made 16 appearances as Claudio Ranieri's side stunned the footballing world to win the Premier League, but never made it into the starting XI.
"I got a Premier League winner's medal which is nice to have. But I wanted to show both managers what I can do [last February]," said Dyer.
"Even though I was there, I never started a game and I was always a sub. I wanted to show both managers my capability and unfortunately six minutes in I snapped me Achilles tendon.
"It was amazing [being part of the Leicester story].
"The way we won the league was incredible. The players were on fire and it was nice to be part of that history.
"You can call once in a blue moon that something like that is going to happen, not a big team winning the Premier League, and it is nice to have that in my trophy cabinet."