Celtic: Brendan Rodgers' side still failing to trouble Champions League elite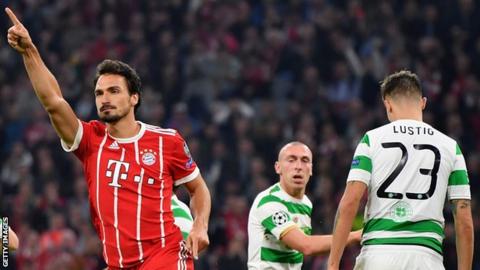 When Mats Hummels glanced in Bayern Munich's third goal in the early minutes of the second half at the Allianz Arena on Wednesday, there was, for Celtic, a terrible fear that a heavy defeat could quickly transform itself into the kind of shellacking that the Germans specialise in when roared on by their own people.
There was the memory of the pair of 5-1 defeats they inflicted on Arsenal, the six they put on Porto a few seasons back, the seven they took Shakhtar for, the eight they scored against Hamburg not just once in recent seasons but twice.
Celtic were 3-0 down, but it should have been four, Bayern being denied a perfectly legitimate goal early in the game. It could even have been five. The Germans were robbed of a penalty.
It had the feeling of a mighty implosion, the one positive for Brendan Rodgers and this team being that it never materialised. Bayern lost their edge, Celtic made substitutions and got better and total humiliation was averted.
If there's a charitable core among the vast Bayern support, they might have found it in their heart to feel sympathy for Cristian Gamboa while all of this was going on. Gamboa, with one game under his belt this season, against Dundee, versus Kingsley Coman, the flying machine from France.
It was, in every sense, a mismatch to beat all mismatches. It was the game in microcosm.
Bayern's attackers are to nervy full-backs what sniffer dogs are to truffles. They tend to get devoured.
This was another in an awfully long line of drubbings doled out to visitors to this marvellous stadium. From six home games this season, it was the fifth time that Bayern have scored three or more in front of their own fans.
We can expand on the numbers to illustrate their ferocity in the Allianz. They have scored 20 goals in those six games. Last season, they played 26 at home in all competitions and scored 80 goals. The season before, they played another 26 and racked up 75 goals.
That's 175 goals in 58 games over the last two and a bit seasons; an average of three per game.
We don't express surprise - or offer up criticism - when the Ross Countys and the Kilmarnocks and the Hamiltons take a pasting at Celtic. We point to the financial gulf and we move on. There has to be a similar approach in assessing what went down at the Allianz.
A footballing superpower beat up a footballing minnow - in financial terms - and there can be no shock in that.
It's been reported that Bayern's annual spend on the upkeep of their stadium is £10m, a multiple of what Celtic spend on players. That's the reality.
These clubs exist in the same group, but they belong in different worlds. On Wednesday, Celtic took a day-trip to see how the other half live.
Are they immune from flak? No, of course not. You consider the chasm in class, but there are still things to be said about Celtic's performance.
This is hindsight for sure, but Moussa Dembele, with his ability to hold up play, may have been a better option than Leigh Griffiths for this game. Tom Rogic and James Forrest over Stuart Armstrong and Patrick Roberts might have made more sense.
Celtic are spending lavishly, in relative terms, on Roberts, but at the exalted level of the Champions League, the terrain in which he's supposed to justify his expense, he has not done it. It's early days for Olivier Ntcham, but he's been a weakness and not a strength in Celtic's midfield in these games.
We also return to the hoary old chestnut of Rodgers' failure to sign an experienced centre-half in the summer, a mis-step in the transfer market that added to their plight on Wednesday.
In the absence of the injured Jozo Simunovic (Erik Sviatchenko is also injured), Rodgers was forced into patching up his defence by moving Mikael Lustig across to centre-half, where he looked uncomfortable, with Gamboa coming in at right-back, where he was, unsurprisingly, tormented by Coman.
Would it have made a difference if Simunovic had been fit? Maybe not. Bayern are good enough to do damage to most defences. The fact is, though, that Celtic made a difficult job all the more arduous by not recruiting.
Rodgers will deny it, but they haven't helped themselves by not signing a centre-half.
The Celtic manager spoke in the aftermath about the Bayern goals. For all the brilliance in their team, all three were cheap.
Crosses were not dealt with, defenders were dozing, the lack of awareness did for them. Those things - and Celtic's terrible wastefulness in possession - are legitimate areas of criticism, even allowing for all the advantages the Germans hold over them.
When asked about the lack of pragmatism in his set-up (a refusal to even try to park the bus in matches such as this) Rodgers said that he would rather stay true to his philosophy and lose than play negatively - and probably still lose anyway.
That's a slightly troubling statement. A refusal to adapt suggests rigidity.
Gordon Strachan won big Champions League victories as Celtic manager by tweaking his system. Neil Lennon was a couple of minutes away from a 1-1 draw at the Nou Camp by setting his team up in a more compact way.
Admittedly, he had Victor Wanyama to help him to do it, but his thinking was flexible. Then, of course, he managed Celtic to that seismic 2-1 win over Barcelona at Parkhead.
Rodgers has done many wondrous things as Celtic manager, but finding a way of troubling the elite of the elite has been mostly beyond him so far.
Yes, there was the thrilling 3-3 draw with Manchester City in Glasgow and the 1-1 draw against a weakened City in the return match. His four other games against box office clubs - Barcelona twice, PSG and Bayern Munich - show a cumulative score of 17-0.
It's too much to expect Celtic to hold these teams, but does heavy defeat have to be a fait accompli? Does Rodgers have to play the same way all of the time? Is there no room for realism against the true heavyweights of European football?
Against Barcelona in Spain and against Bayern in Germany, the game was done by half-time. It was the same story when they trailed PSG 3-0 at the break in Glasgow.
Landing some sort of blow on a behemoth would represent the next step for Rodgers and his players. That step looks a long way off.
We return to the bottom line in all of this - European football after Christmas. Celtic are on course for the Europa League and that, unquestionably, has been the goal from the minute the Champions League draw was made.
With the Bayerns of this world spending more on tradesmen for their Allianz palace than Celtic can afford on recruiting first-team players, they're aware of their rightful place in the pecking order and it's in among the second tier. Wednesday reinforced that - not that the thought needed any reinforcement.