Celtic players support Brendan Rodgers' Euro tactics, says Callum McGregor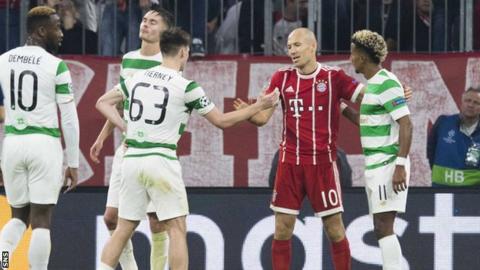 Celtic's playing squad are 100% behind manager Brendan Rodgers' philosophy in Europe, according to Callum McGregor.
Bayern Munich's 3-0 win over the Scottish champions led to calls from some quarters for a more pragmatic approach in the Champions League.
The defeat leaves Celtic third in Group B, six points behind leaders Paris St-Germain and three off Bayern.
However, McGregor said: "The manager has a certain way of playing and the players believe in that as well."
McGregor, who was an unused substitute in Munich, said the Celtic players will "take our medicine, learn from these guys and take it back into our game".
Goals from Thomas Muller, Joshua Kimmich and Mats Hummels saw the hosts coast to victory and also spurn a number of other chances.
'Clear playing structure'
Nevertheless, McGregor believes Rodgers will remain faithful to his tactics and style of play against Europe's top clubs.
"You see the success we've had since he came in, in terms of securing the treble and [ending the domestic season last term] unbeaten," McGregor said.
"I think we're getting better in the European competitions when we play that way.
"He [Rodgers] has got a clear structure the way he wants to play and the players agree with that 100% and believe in it. So, I think we'll keep playing the same way.
"There are spells in the games where you can see that we're getting better at this level and starting to implement our game plan into these big games and big arenas."
Celtic return to domestic matters this weekend with a Scottish League Cup semi-final against Hibernian at Hampden.
"The timing of the game isn't ideal [12:15 kick-off on Saturday] but I think that everybody will be resting today and tomorrow," McGregor added. "It's a big game and I think adrenaline will play a big part as well.
"It's a massive game - any semi-final for Celtic is a big game. We know the pressure we're under to go and perform and get a result. Obviously, we know what Hibs did when they came to Celtic Park [in September] - they had a great performance and they'll make it difficult for us. We need to make sure we're ready for that challenge.
"They're a good side but we knew that going into that last game [the 2-2 draw at Celtic Park]. They caused us a lot of problems, and you look at the game, it could've gone either way.
"We need to guard against that and prepare properly for it."