Eni Aluko: Lee Kendall not at England women's friendly against France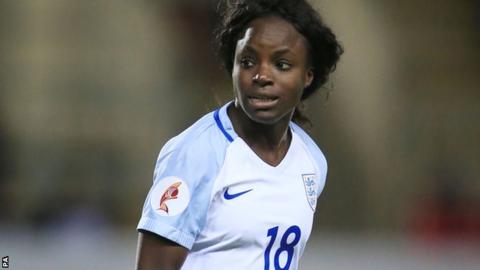 England women's goalkeeping coach Lee Kendall was not involved with the squad for Friday's friendly defeat in France after becoming the subject of a Football Association investigation.
Kendall is accused of "unacceptable behaviour" towards striker Eni Aluko.
Nigeria-born Aluko, 30, alleged that Kendall, 36, spoke to her in a fake Caribbean accent.
Kendall's place in Valenciennes was taken by Tim Dittmer, goalkeeping coach of the men's under-21 side.
England, in interim coach Mo Marley's first game in charge, lost 1-0 thanks to an 89th-minute goal from Viviane Asseyi.
In evidence given to a Department of Digital, Culture, Media and Sport select committee on Wednesday, Aluko said of Kendall: "I don't think he meant it maliciously. He may not have been aware of how annoying it got.
"I'm not Caribbean. I'm of African descent. I thought it was another example of an ignorant mindset and behaviour towards me."
The hearing took place to analyse how the FA dealt with Aluko's previous complaints about former England boss Mark Sampson's behaviour.
The FA subsequently apologised to Aluko for racially discriminatory remarks that he made.
Sampson was sacked as England women's manager in September following evidence of "inappropriate and unacceptable" behaviour with female players in a previous job.
In a written submission to MPs, Aluko also detailed watching video clips of training, on which she could hear Kendall discussing her with another coach. He called her "lazy" and used "industrial language" about her.
"I was particularly surprised at the strong negative opinion formed by Lee Kendall only a month into the tenure of Mark Sampson," she said.
"I believed the inflammatory statements were inappropriate, unprofessional and unwarranted; and I felt as though I had been singled out for such treatment."
During the four-hour hearing, the FA was criticised for not having a satisfactory structure in place to deal with Aluko's concerns.
An FA statement read: "The FA can confirm we are investigating England women's goalkeeping coach Lee Kendall following new evidence that came to light on Wednesday alleging unacceptable behaviour towards Eniola Aluko during an England camp."
Kendall, a former goalkeeping coach at Bristol City, was appointed by England in 2014.