Cardiff City: Defender Callum Paterson available for first time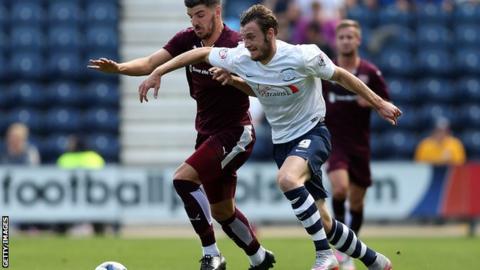 Cardiff City signing summer Callum Paterson is finally ready to join the Bluebirds squad ahead of their trip to Middlesbrough.
Scotland defender Paterson, who joined from Hearts, has yet to play in 2017 because of a knee ligament injury which has sidelined him since December 2016.
Boss Neil Warnock says team selection will not be swayed by a second loss of the season at Birmingham last Friday.
"I don't panic about changes for the sake of it," he said.
"I think you look at the opposition and how they play and work out how the best way is to try and get a result really."
Warnock is keen to incorporate Paterson, who will travel to Boro ahead of appearing in a development game on Monday.
"He's frustrated at the minute, [he] kicks one or two people in training because he's not getting a game, but I think long-term he will be a big favourite," Warnock said.
Cardiff have not lost two consecutive games this season and Warnock says he is impressed with the response he has seen since the defeat at St Andrews.
"There are one or two lads busting a gut to get in the team at the minute. It's good," he added.
"This week there has been very good competition and there have been some real cracking performances [in training]."
Warnock believes there is less mystery about Middlesbrough, managed by former Swansea boss Garry Monk, than with Birmingham, who were playing for the first time under new manager Steve Cotterill.
"We did not know what a new manager would bring at Birmingham - six changes and three players that have never played before," said Warnock.
"It was difficult, we probably blame ourselves a little bit staff wise. But we have no excuse at Middlesbrough we know they are a good side we have to be prepared better and be ready for that."
Winger Kadeem Harris is set to be sidelined for another three or four weeks with a hairline fracture of the ankle suffered in training.