Kyle and Elliott Bennett set for first league meeting between Portsmouth and Blackburn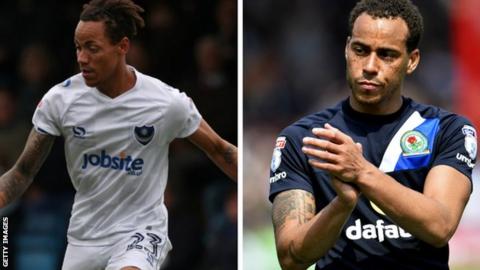 Kyle Bennett says there will be no "brotherly love" on the pitch when he and older brother Elliott meet for the first time in a league game.
Kyle's Portsmouth travel to Ewood Park to face Elliott's Blackburn Rovers in League One on Saturday.
"Hopefully I'm not anywhere near him on the pitch," Kyle, 27, told BBC Radio Solent. "We're out there fighting for the same thing, which is the win."
The brothers have met once before in a League Cup tie in September 2012.
Kyle admits it will be a special day for the family.
"There's a few pictures on the wall at mum and dad's house of us both playing against each other, right back from when we were kids," he said.
"A lot of the family will be at the game, hopefully Elliott's sorted all their tickets out instead of asking me.
"It's a different feel to this game now that we're in the same division, but it will be good to go against him again."
Kyle was at Doncaster and Elliott at Norwich for their previous competitive meeting.
And the pair have experienced differing fortunes with their current clubs to set up Saturday's league meeting.
Elliott was part of the Blackburn squad relegated from the Championship last season, while Kyle's Pompey secured the League Two title the day before.
"We always talk about football every day on the phone," Kyle revealed. "But, he isn't going to give too much away about Blackburn before Saturday and I'm the same with Portsmouth."
Despite their cagey approach, Kyle still had time for a quip at his brother's expense.
"It's going to be a competitive game," he said. "He wants to win much as I do, but regardless of that, it'll be him going home crying!"