Shaun Miller: Carlisle United forward first to be banned under new simulation laws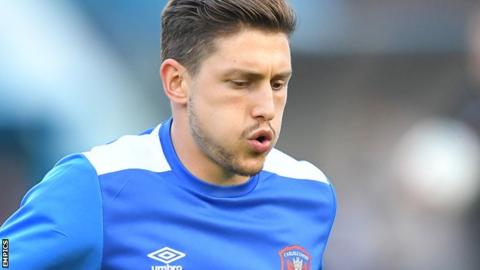 Carlisle forward Shaun Miller has been banned for two games after becoming the first player found guilty of simulation by the Football Association since new laws were introduced in May.
Miller, 30, had denied a charge of "successful deception of a match official" after a "clear act of simulation" against Wycombe on Tuesday.
The suspension is the first of its kind in English football.
Carlisle scored from the penalty which followed the incident, in a 3-3 draw.
A three-member FA review panel, which is changed each week and consists of one former match official, one ex-manager and one ex-player from a pool of 13, have to be unanimous before a charge is made.
Carlisle were awarded the penalty in the first half of Tuesday's League Two game when former Crewe and Morecambe man Miller went down under Wycombe defender Dan Scarr's challenge in the area.
Carlisle 'very disappointed'
"We are very disappointed with this outcome," Carlisle chief executive Nigel Clibbens told the club website.
"In our view, there was no intent to deceive the referee and it is not a clear act either. Shaun and no other Carlisle United players appealed for a penalty.
"They all played on and were not expecting or seeking any decision. You can see from the footage that they were all surprised when a penalty was given."
Miller will be suspended for Saturday's home league game against Notts County and the trip to Chesterfield on 28 October.
What are the new laws?
The FA defines the offence for which players will be punished as "successful deception of a match official".
Only incidents that result in a player winning a penalty or lead to an opponent being sent off - through either a straight red card or two yellow cards - will be punished.
The FA says it will act "where there is clear and overwhelming evidence to suggest a match official has been deceived by an act of simulation, and as a direct result, the offending player's team has been awarded a penalty and/or an opposing player has been dismissed".
Such bans have been used in Scottish football since 2011.