Martin Glenn: Baroness Sue Campbell says FA chief executive is 'doing a very good job'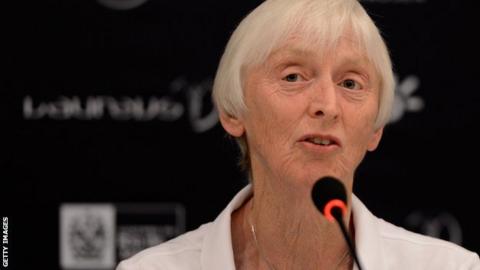 Football Association chief executive Martin Glenn is "doing a very good job", says Baroness Sue Campbell, the FA's head of women's football.
FA bosses were in parliament on Wednesday to answer questions after discrimination claims against ex-England manager Mark Sampson.
MP Damian Collins said there were "serious doubts" whether FA bosses were fit to continue.
But Campbell told BBC Sport: "Martin is turning around a super tanker."
Speaking as England lost 1-0 to France in a friendly, Baroness Campbell added: "He is doing a very, very good job at the FA. Its a huge job and it's not easy to do.
"We all realise this has been a challenge and there are things to learn. I'm sure these historic things will never happen again."
Glenn appeared in front of a Digital, Culture, Media and Sport committee on Wednesday, alongside FA chairman Greg Clarke, technical director Dan Ashworth and HR director Rachel Brace.
Before the hearing, the FA apologised for racially discriminatory remarks made by Sampson to striker Eniola Aluko in 2014 and to her Chelsea and England team-mate Drew Spence in 2015, as a reopened investigation into their complaints was published.
Committee chair Collins later criticised the FA for not acknowledging its failings, and sports minister Tracey Crouch also urged them to improve.
"We are clearly sorry that things were said that were inappropriate but on balance, the report quite clearly shows these were considered to be mistimed jokes said in poor taste," Baroness Campbell added.
"We have apologised, we have been through a very rigorous process and I hope we can now move on."
Clarke, meanwhile, was criticised by former NBA player John Amaechi, who said that at a meeting earlier this year, the FA chairman told him he would not risk pushing through reforms on diversity because it would get him "fired".
He added that Clarke also claimed the Government would never force the FA to act on homophobia because "we have all the power and FIFA would step in and call it government interference".
The FA confirmed that the meeting took place, with a spokesperson telling the Press Association: "Homophobia in football is an important subject and one the chairman feels passionately about."
You can now add WSL 1 notifications for line-ups, goals, kick-off, half-time and results in the BBC Sport app. Visit this page to find out how to sign-up.