Barcelona: Nou Camp naming rights deal to be voted on by members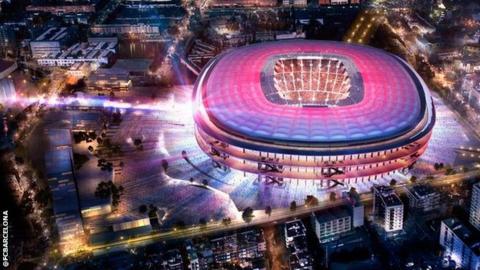 Barcelona members will vote on a naming rights deal for the Nou Camp in the first half of 2018, says the club's president Josep Maria Bartomeu.
The Spanish giants already have plans in place for £536m (600m euros) redevelopment of their stadium.
Work is expected to start this season and a naming rights deal could help towards the cost.
"The negotiations to find a name for the Camp Nou are going well," said Bartomeu at the annual general meeting.
The Nou Camp has been Barcelona's home since 1957 and has hosted two European Cup finals - in 1989 and 1999 - and the Olympic football tournament in 1992.
Barca played a La Liga game against Las Palmas behind closed doors on 1 October as a protest after their request for the match to be postponed in light of Catalonia's independence referendum was rejected.
Catalonia, a region of 7.5 million people in north-eastern Spain, has its own language and culture and Barcelona is its capital.
Bartomeu told the AGM that the club "are not an instrument to be manipulated for political interests, whatever they may be" and that "nobody can appropriate our badge or flag".
He added: "No one can doubt Barca's commitment to the Catalan community. We defend the principles of democracy, the right to decide and free expression."