Forest Green Rovers: Charlie Cooper ruled out for at least six weeks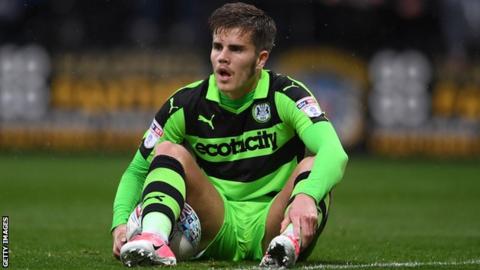 Forest Green Rovers midfielder Charlie Cooper will be out of action for at least six weeks with a knee injury.
The 20-year-old limped off during Tuesday's 1-0 victory at Coventry City after a tackle from Rod McDonald.
Cooper's injury has been assessed as hyper-extension of his left knee, as well as bruising to the bone.
"There's been a lot of trauma to the knee joint itself and the ligaments have all been stretched to their limit," said team physio Ian Weston.
"His foot was rotated a little bit. He has been fortunate because if his foot was fixed we would have been looking at a very serious injury."
Cooper has made 16 appearances for Forest Green this season, scoring once.