Simon Church: Wales striker enjoying return to football 'buzz' with Scunthorpe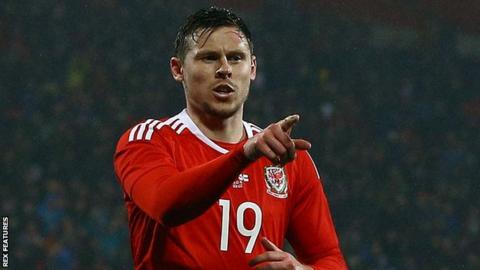 Simon Church put an injury-hit year behind him on Saturday, as the Wales striker came off the bench to inspire new club Scunthorpe United to victory.
The 28-year-old joined the League One side this week on a short-term deal.
With Scunthorpe trailing Peterborough at home, Church made an immediate impact as he won the late penalty that Josh Morris converted for a 2-1 win.
"It's been a long time, I've been really looking forward to the moment when I got back on the pitch," he said.
"Most Saturdays have been spent at home with the kids recently watching the football on the telly!
"To be back playing on a Saturday and part of the buzz, and the build-up to the game it was brilliant.
"I just wanted to get on and make an impact, and I'm glad I did."
The Wales striker suffered a serious hip injury in September 2016 while playing for Roda JC and has been without a club since leaving the Dutch side, undergoing surgery followed by a lengthy rehabilitation.
Church took up Scunthorpe's offer of a contract until January and made a memorable debut at Glanford Park, as the Iron ended a five-game streak without a league win to move up to eighth in the table.
Peterborough had led through Andrew Hughes' goal and, with time running out, Scunthorpe manager Graham Alexander summoned his new recruit off the bench.
"The manager said 'are you ready to play?' and I couldn't wait to get on, and luckily I made a bit of an impact to help the team win," Church told BBC Sport Wales.
Lee Novak equalised within two minutes of the change and then, with time running out, Church intercepted Hughes' under-hit pass to goalkeeper Jonathan Morris, who then brought down the Wales international.
"I noticed the defender with the ball, he wasn't going to pass forward and the only way he's going to go is backwards, so I took a gamble and luckily it paid off," added Church, whose former clubs also include Reading, Charlton, MK Dons and Aberdeen.
"Ideally I wanted to take it round the keeper and put it in myself, but he clipped me, I went down and it was definitely a penalty - I'm glad Josh scored it.
"As a player making his debut at any club you've got to earn the respect of the players, the manager and more importantly the fans, so I went into that game thinking whatever chance I get to get onto the pitch I've got to make a good first impression.
"I was delighted how it went and they haven't won in a while so it was great to get a result.
"There's no better feeling than winning games and seeing the crowd's reaction at the end of the game was brilliant."
Alexander the great?
Church had been unable to agree a contract with other clubs over the summer but says that Scunthorpe boss Alexander persuaded him to sign.
"Through the summer there were a few parties interested, I've been training in a few places and for whatever reason they [negotiations] have broken down," Church said.
"So we were at the stage now where I needed something to get me back playing, get me back fit. Scunthorpe gave me a call, Plymouth also wanted the same kind of scenario.
"I met the [Scunthorpe] manager, trained there on the Thursday, they were happy for me to join and I was happy to do that.
"They're pushing to get promoted again to the Championship, they really want to push back up the league so that was something that helped me.
"Short term, now until January was perfect, it worked well for both parties.
"The manager was brilliant, he had the clear vision for the club and they were so close to getting promoted last season, they want to go that extra mile and if I can help them do that then great.
"For me it wasn't anything to do with financial, I'm not in a position to demand that. At this moment in time it was more about the opportunity and the best situation for me to get back into playing.
"I got offered a lot more years and things elsewhere but... when you have a short-term goal you're more dedicated to it.
"It gives you more desire to do well in that short term knowing that come January it's up to me to do well to get another contract, whether it's at Scunthorpe or somewhere else.
"Ideally what I want to be doing is playing week in, week out, get fit, score some goals and... get back in the Wales team."
While Church has targeted adding to his 38 Wales caps, he hopes it will still be Chris Coleman in charge when he gets the recall.
Coleman is still undecided whether to continue as Wales boss, following Wales' failure to make the 2018 World Cup play-offs.
"It's going to be hard for Wales to keep him but I hope they do," Church said.
"On a personal level he's an amazing manager, an amazing person and I think all the players would agree.
"He deserves everything he can get, one of the most successful Welsh managers ever."