Ronald Koeman sacked as Everton manager: Where it went wrong for Dutchman

By Phil McNulty
Chief football writer
Last updated on .From the section Football446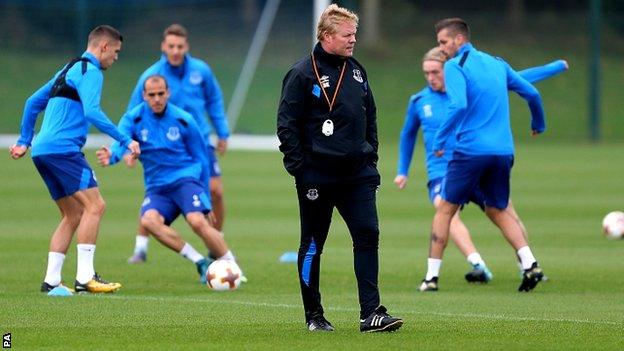 When Ronald Koeman took the acclaim from Goodison Park at the end of his first season as Everton manager, he could reflect with satisfaction on a job well done.
Koeman, prised from Southampton as the top target of major shareholder Farhad Moshiri in succession to sacked Roberto Martinez, had restored order from the chaos of the Catalan's regime and guided Everton back into the Europa League with a seventh-place finish.
All looked set fair with Moshiri willing to bankroll major summer transfer investment and plans for a new stadium at Bramley Moore Dock on the starting blocks.
That promising day in the spring seemed an age away on Sunday as Koeman's Everton trooped off the pitch at a largely deserted Goodison Park, with the derision of the fans ringing in his and his players' ears after a 5-2 thrashing by Arsenal that left them in the relegation zone.
This was not what he or Moshiri planned after more than £140m worth of summer outlay - and Koeman was sacked only nine league games into the season on Monday.
Three number 10s and the Lukaku hole - the problems
Everton's transfer plans this summer were high on ambition but have been exposed as short on structure. Muddled thinking and one glaring piece of gross mismanagement has also holed the whole strategy below the waterline.
It was known at every level of management at the club from March, when Romelu Lukaku announced he would not be signing a new deal, that last season's 25-goal leading Premier League scorer would be leaving Goodison Park.
Over and above any other deal, a replacement for Lukaku had to be a non-negotiable top priority.
Everton looked to have done sound early business with £30m deals for goalkeeper Jordan Pickford and England defender Michael Keane, as well as a £24m outlay on Ajax captain Davy Klaassen.
Spain Under-21 striker Sandro Ramirez arrived from Malaga and Wayne Rooney made his homecoming from Manchester United - by which time Lukaku had made the £75m reverse journey to Old Trafford.
The painfully slow pursuit of Gylfi Sigurdsson, who finally joined for a club record fee of £45m after the start of the season, masked the elephant in the room - still no replacement for Lukaku.
As days went by it became clear Everton had placed all their eggs in one basket, namely a deal for Arsenal's Olivier Giroud.
When this deal failed to materialise, Everton were left floundering in a manner that almost bordered on negligence as they gazed at a Lukaku-sized hole in their plans. It was a problem they could not solve before the transfer window closed.
Everton managers' Premier League record (after 47 games)

Manager

Win %

Roberto Martinez

51.06%

David Moyes

44.68%

Ronald Koeman
40.43%

Howard Kendall

38.30%

Joe Royle

34.04%

Walter Smith

34.04%
It left Koeman's squad fatally unbalanced. Three number 10s in Rooney, Klaassen and Sigurdsson were all jockeying for their favourite position while Sandro struggled to adapt to the Premier League, heaping a huge burden on the shoulders of England's Under-20 World Cup winner Dominic Calvert-Lewin.
Koeman has struggled all season to find his best team and his best formation. When he replaced Ashley Williams with Tom Davies at half-time in the Arsenal debacle, it was the ninth time in 17 games this season he had made a change at that stage.
It is an indication of either picking the wrong team or the wrong formation, neither of which is good news.
Everton, as a result, have looked a team without direction or a clear identity under a manager who was so assured last season but has lost his way in this campaign.
Koeman's determination to shoehorn Rooney and Sigurdsson into his team - Klaassen has been sidelined after looking out of his depth - robbed them of width and pace that may have been offered by Ademola Lookman and Kevin Mirallas.
He has also used two holding midfielders in Idrissa Gueye and Morgan Schneiderlin, but the latter's form has fallen off a cliff after a fine start following his arrival from Manchester United.
It has forced England Under-21 midfielder Davies, a youngster of such promise, to the margins.
Everton were handed a tough start to the season with visits to Manchester City, where they got an excellent point, Chelsea and Manchester United, as well as home games against Tottenham and Arsenal.
Aside from the 1-1 draw at Etihad Stadium, Everton lost those other games, conceding 14 goals and scoring only two.
Koeman's plight was illustrated by the sudden return to favour of striker Oumar Niasse, shown the door almost instantly by the Dutchman on his arrival and loaned out to Hull City.
It was desperation dressed up as an act of reconciliation. And Koeman was a grateful man as two late goals from Niasse saw Everton come from behind to beat Bournemouth in one of only two league wins this season.
Watching Everton being torn apart almost at will by Arsenal threw out another question that can be reasonably asked by anyone who has watched them this season.
What sort of team are Everton? Not a passing team. Not a competitive pressing team. Not a free-scoring team.
No-one seems to know. And the big problem seems to be the manager does not know either.
It has been a shockingly quick decline and not simply down to the failure to replace Lukaku. The malaise has run much deeper than that, from the manager's office at Finch Farm to the pitch.
And now the responsibility is right at Koeman's door.
Is it all down to Koeman?
The old laws of football state the managers carry the can for the sort of wretched sequence Everton have been having. It is the price on the ticket for the lucrative reported £6m-a-year contract that helped persuade Koeman to leave Southampton.
Koeman may, however, feel he has been let down in other areas of the club that have led to the downward curve that has Everton in the drop zone.
He can certainly point to numerous media conferences when he very publicly stated Everton required a striker and a left-sided defender. Neither arrived.
Director of football Steve Walsh was heavily involved in transfer negotiations, seen in Milan at one point attempting to do deals - none of which seemed to materialise.
Was the acquisition of a striker and a defender down to Walsh?
As the inquest is conducted into Everton's start to the season, it is fair to say the answer to this question will be on the agenda and Walsh's role is likely to come under increasing scrutiny.
Koeman could also have reasonably expected more of his new signings - but his hand was all over the £70m paid for Sigurdsson and Klaassen, which has reaped no reward.
Sigurdsson was the player he arguably wanted above all others, while Klaassen came from the Dutch league with a glowing reference from his countryman.
Yet he has looked lightweight and unfit for purpose, too easily brushed off the ball and not getting the goals that were his major selling point. He was substituted at half-time in the Europa League loss to Lyon and it is debatable when he will start again.
Rooney has been a success in a playing context, his goal against Arsenal confirmation that he is one of the few Everton players capable of producing match-defining moments.
It all, however, goes back to that unbalanced, unstructured transfer policy - and that failure to replace Lukaku.
Koeman must take most of the responsibility but he would be well within his rights to point out others were involved too.
Out of tune with Everton mood music
When Koeman made his excellent first impression last season, his cold, calculating detachment was hailed as exactly what was needed after the freewheeling, happy-clappy reign of his predecessor Roberto Martinez.
Koeman did not sing the company song and did not claim a long-lasting affection for Everton. He was the tough love that would bring the club and its squad back into line.
Everton's fans accepted Koeman was a football manager who, at this time in particular, just happened to be Everton's manager. He was not part of the club's fabric and never pretended to be.
Koeman didn't really hide the fact his true love was Barcelona, where he remains a legend, and that his dream journey would take him back to the Nou Camp as coach.
Not a problem - until you start losing football matches.
It was then that Koeman's supposed lack of connection with Everton and their fans was used as a stick to beat him. The suggestion he does not care was patently nonsense but his approach, removing emotion from every situation, was suddenly a serious flaw and unappealing to supporters.
Everton's five worst starts to Premier League campaigns (nine games)

Season

Points

Goal diff.

Final position

1994-95

3

-13

15th

2005-06

4

-10

11th

2017-18

8

-11

-

1997-98

8

-5

17th

1995-96

8

-3

6th
Whereas his hardline approach to Ross Barkley and his contract situation - effectively showing the England midfielder the door from his hometown club - was initially praised as putting a dissenter in his place, it was a decision revisited when Everton started to struggle.
Barkley, for all his decision-making flaws, has increasingly looked like a player who would stroll into the current Everton line-up once fit and Koeman's handling of the situation has suddenly been questioned.
Martinez's more approachable persona allowed him to survive a poor second season almost free from criticism. It was only when his third season descended into a fiasco, despite reaching the League Cup and FA Cup semi-finals, that the atmosphere turned toxic.
The only goodwill Koeman is interested in, and this is not a criticism, is accumulated by results. There is nothing left in the bank when things turn bad and he has increasingly become a target for Goodison Park's ire.
It seems unjust that the tables are turned in such a fashion, that what was portrayed as a strength is suddenly a weakness, but Koeman has fallen victim to those fickle factors.
Who's next?
Carlo Ancelotti

The Italian insists he will be taking a sabbatical until next summer after his sacking by Bayern Munich. He usually steps into elite projects. Everton could make it worth his while financially - but would he really be interested?
Thomas Tuchel
The 44-year-old German is highly regarded and available after leaving Borussia Dortmund. He may need some persuading but is known to admire the Premier League and Everton could put together an attractive package.
Eddie Howe

Howe has built his reputation at Bournemouth and is a lifelong Everton fan. Will he feel he has taken the Cherries as far as he can? The 39-year-old has the sort of personality and background Everton chairman Bill Kenwright would like - but is it actually Kenwright's decision?
Sean Dyche
Dyche's stock is high after his work at Burnley and he may yet get the call from others. Would be intriguing to see him in charge of a bigger club with higher expectations.
Rafael Benitez

A real wildcard this one - but a proven manager who still lives almost on the banks of the Mersey. Would the Spaniard or Everton be able to see past his Liverpool connections? And would he leave Newcastle United just when some takeover investment may be arriving?
David Unsworth
Everton's outstanding under-23 coach is highly regarded at Goodison Park and considered a future manager - but may not be ready for that big step just yet.
Sam Allardyce
A firefighter supreme who often bemoans his lack of opportunities at the top end of the Premier League. The former England boss is a real outsider but these are strange times.
David Moyes
There are reports of a possible return but the Scot has had two sackings at Manchester United and Real Sociedad and a dire relegation at Sunderland since he left Everton in 2013 after 11 years.
The 54-year-old is regarded as a figure from the club's past whose career has headed downhill since he left - and he is not a name likely to be well received by a majority of fans, who would regard any such move as devoid of ambition and imagination.
Marco Silva
The 40-year-old Portuguese is building a big reputation at Watford. He is tactically astute and a young, emerging coach - but he has only just got to Vicarage Road.
Mikel Arteta
This may seem like a long shot but the former Everton midfielder is still highly regarded at Goodison Park and is building his reputation as part of Pep Guardiola's backroom team at Manchester City. It would be a risk but one Everton may feel is worth taking.