'It's not football' - Rangers' Bruno Alves unhappy with referee Steven McLean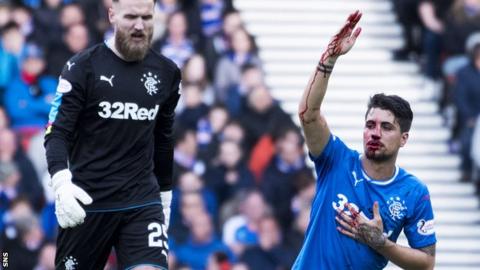 Rangers defender Bruno Alves said the physical nature of his team's League Cup semi-final 2-0 defeat by Motherwell was "too much" and "not football".
Referee Steven McLean booked four Motherwell and two Rangers players.
And Rangers defender Fabio Cardoso left the field with a broken nose after being caught by Ryan Bowman's elbow.
"I don't like to speak too much about referees but he cannot allow this kind of behaviour, because this is too much," said the Portugal international.
"It happened too many times. I am really concerned about this kind of behaviour.
"This is not football. I also like physical contact and to play hard but this was too much.
"The first action in the game was an elbow in the face of Fabio. After this anything can happen. It can happen but he opened Fabio's mouth. It's not acceptable.
"I don't like to find excuses for why we lost but I am really disappointed about this."
Rangers manager Pedro Caixinha and Well counterpart Stephen Robinson were sent to the stand after a touchline argument when Bowman caught Cardoso with his arm for the second time in the match, the first resulting in a booking, the second going unpunished.
Double goalscorer Louis Moult was also bloodied by Cardoso's arm and Alves escaped a card of any sort after kicking out at Moult before the Motherwell striker and Rangers substitute Eduardo Herrera were booked for their involvement in a melee.
The 35-year-old said of referee McLean: "This is what happens when he lets this kind of behaviour happen from the beginning. You start not playing football and play other things.
"I'm sad because we lost the game but I'm sad about what happened. Fabio broke his nose. What more can happen?
"All the game I'm trying to jump for balls and someone is trying to block me. Sometimes you get tired of this and you start to react. It's not good for football.
"They deserved it because they scored two goals and defended quite well, I'm just frustrated, I don't think this behaviour is acceptable."