Chris McLaughlin's words of the weekend: Cup exit could be 'mortal blow' for Caixinha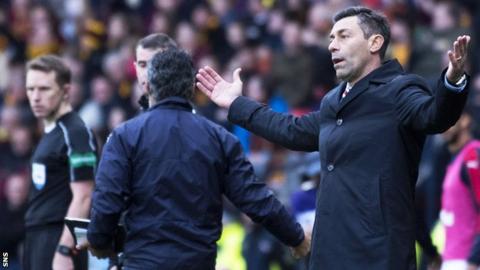 BBC Scotland's senior football reporter, Chris McLaughlin, analyses a talking point from the weekend's action, asking what's behind the words.
Rangers manager Pedro Caixinha after his side's 2-0 League Cup semi-final defeat by Motherwell
"Maybe I created a lot of expectation, I am always like that, maybe I created a sort of anxiety. I don't know why they under-performed, individually and collectively. It is up to me."
As Fabio Cardoso sat bloodied on the Hampden turf following a terrible challenge from Motherwell striker Ryan Bowman, his manager started to unravel on the sidelines.
Pedro Caixinha had spent most of the match prowling at the very edge of his technical area, kicking every ball, wincing at every chance missed - he looked like an emotion conductor, standing alone on the touchline in a bid to divert the pain away from the thousands of Rangers fans who had come hoping to see their side progress to the final.
Having completely lost his composure, he was forced to watch from the stand as his players completely lost theirs. But by the time he faced the media the Rangers manager was a picture of calm. As ever, though, what he said was intriguing.
Caixinha is a manager who has always made it clear that the buck stops with him. So it was again on Sunday as journalists probed him about what went wrong. "I am to blame," he said. Admirable and perhaps expected, but there are four keys points to the quote picked out for this piece, that sum up Rangers under the Portuguese.
Expectation
Heading into this game he knew this was not only a chance for Rangers to join their rivals Celtic in the first final of the season, but also a chance for him to prove his doubters wrong.
To prove that he could win three games in a row. To prove his side could handle the big occasion. Caixinha may not have grasped completely the expectation that came with the job when he took over, but he's well aware of it now.
In the media conference leading up to the semi-final he said "we have two options: to win and to win." He was demonstrating his knowledge of the importance of the task and his understanding of the expectation. In the end, it made no difference.
Anxiety
From the first game of this season and back into last, anxiety is a word that's been commonly associated with this Rangers team. What makes it so frustrating to the fans is that it can often sit side by side with ability.
Caixinha's team completely dominated Motherwell in the first half at Hampden. They started with an urgency and a purpose that lulled those in the stands, once again, into a false sense of security. The trouble comes when their opponents knock them off their stride. The doubt creeps in, anxiety takes over and matches can slip away. "How did that happen?" could easily be adopted as the motto for this Rangers side.
Under-performed
From the anxiety comes fear and ultimately a lack of belief. Questions have been asked about Caixinha's summer signings but more than a few of the new recruits have shown enough to suggest they have ability. Daniel Candeias, Declan John, Alfredo Morelos and Bruno Alves have all shone at times but too often they are pulled into the collective fragility that can plague the rest.
It's a squad of players who have the ability to beat Motherwell, who are good enough to see off Partick Thistle, who should not be dropping points to Hearts - but ultimately they are.
Up to me
The manager is responsible for all of it - he knows it, the fans know it and, more importantly, the board know it.
Slipping up a few times on league business can be forgiven if you stay in the mix but the defeat to Motherwell on Sunday immediately snuffed out hope of silverware that should have been within reach. Finances may force Rangers to limp on in a bid to recover but few will view what happened at Hampden as anything other than a mortal blow for Caixinha's future at Rangers.