Celtic boss Brendan Rodgers' sympathy for Rangers' Pedro Caixinha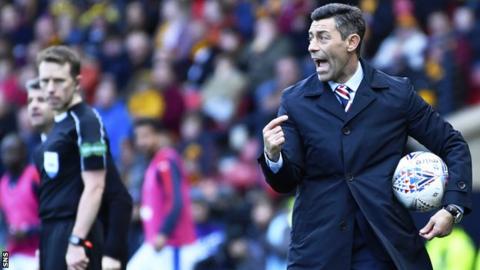 Celtic boss Brendan Rodgers has sympathy for his opposite number at Rangers, Pedro Caixinha, over "poor authority" from officials on Sunday.
Rangers were knocked out of the League Cup at Hampden a day after Celtic had won their semi-final at the national stadium.
Caixinha was sent to the stand for his anger at a challenge on defender Fabio Cardoso, who suffered a broken nose.
Rodgers says he "could see why Pedro was probably annoyed".
And the Northern Irishman said: "There was a couple of decisions yesterday that would've worried me. I thought the authority from the officials in the game was poor.
"You play in that level of game, I could see why Pedro was probably annoyed.
"There was a couple of incidents there that went unpunished. You maybe would've got away with that in the '80s, but certainly not now. It certainly shouldn't have been the case.
"But, you've got to give credit. The boy (Louis) Moult scores his goals. First one, read it well in the box and his second was a brilliant finish.
"It'll be a great final and obviously delighted for Motherwell to get through because they've started the season very well."
Motherwell's Ryan Bowman was booked in the first half at Hampden for connecting with Cardoso with his elbow. In the second half the forward escaped punishment when he broke the same player's nose with his arm as the pair contested a high ball.
"I have seen the player involved in the incidents, in similar incidents," Rodgers continued.
"I saw an incident with Kieran Tierney at Parkhead last season that went unpunished.
"We all want our team to be aggressive and committed but there is a line and that is up to the officials to see that and act accordingly.
"You want a physical game but you also want officials to stamp out anything that goes beyond that and I felt yesterday lacked authority in terms of officiating.
"You have to make it as uncomfortable as you can for the opponent but if it goes beyond that and it becomes reckless and you are endangering an opponent then you have to look at it."
Rodgers also revealed he received an apology from linesman Frank Connor, who awarded a controversial penalty against Celtic in their 4-2 semi-final win against Hibernian. Dedryck Boyata was penalised for what seemed to be a fair tackle on Martin Boyle inside the area.
"Over the two games, I'd be disappointed," said Rodgers when asked for his general thoughts on officiating in Scotland.
"The only thing I would say is that the young linesman came in after the game and apologised. So, that takes courage to do that. He was looking for me but I was at my press conference so I didn't get the chance to speak to him but he came in to apologise and said to Dedryck Boyata that he made a mistake. Thankfully, it didn't cost us."
Meanwhile, Boyata admits Wednesday's visit to Aberdeen will be the stiffest test of the club's lengthy unbeaten domestic run - but only because it is the next match.
The Belgian centre-back insists neither he nor the rest of the squad talk about, or dwell upon, the fact that Celtic have not been beaten by a Scottish side in 60 matches.
Boyata welcomes the improved challenge from the Dons who, like Celtic, are unbeaten in the league in their nine matches so far and are second to Rodgers' men on goal difference only.
And the 26-year-old says matches against Aberdeen are always "very hard" and that he and the rest of the team know all about the Pittodrie side and the threats they can pose.
"We look at the game ahead of us and we know what we have to do to win the game and we just stay focused to play the game as the manager's prepared it," said Boyata.
"Of course, we know going to Aberdeen is definitely not easy. We're taking the games one at a time."