Rangers bullied at Hampden, says former player Kris Boyd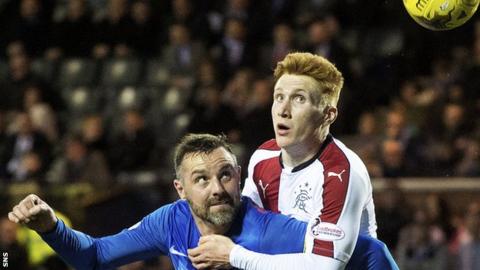 Kris Boyd says he was surprised at how Rangers were "bullied" in Sunday's League Cup semi-final loss.
The Kilmarnock striker was asked on BBC Radio Scotland's Sportsound if his former club were a soft touch and replied: "Against Motherwell they were.
"I've never seen a Rangers team bullied the way they were bullied [on Sunday] - good or bad.
"There's one thing about a Rangers team, they would always stand up to the fight. That's just not Rangers."
Pedro Caixinha has not won three successive matches in his 25 games so far as Rangers manager and faces striker Boyd's Kilmarnock on Wednesday evening.
The Portuguese boss signed 11 players during the summer transfer window and eight of those have been regular starters so far this season.
"If you're bringing players to this country, they need to be of the quality that makes the team better and drives and pulls the Scottish ones with them, or the British-based ones with them," said Boyd, 34, who had two spells at Ibrox.
"There seems to be something happening at half-time at Rangers as well.
"When you look at when Rangers seem to be losing their goals as well, there's something not right. Slivka, [in Hibs' 3-2 win], it was in 65 minutes, Mikkelsen, Ross County, 59 minutes, Deacon [for] Dundee, he had a fantastic opportunity that got cleared off the line.
"The Partick Thistle goals [in the 2-2 draw] came in 50 and 60 minutes, the Celtic ones came in 50 and 65 minutes and Louis Moult's [first in Motherwell's League Cup semi-final win] comes on 52."
Caixinha 'undermining his own position'
Former Hearts, Hibernian and Scotland midfielder Michael Stewart believes the Rangers players will have been dispirited by Caixinha's apparent change in stance over Sunday's Hampden defeat.
Shortly after the game, Caixinha said: "I assume all the responsibility."
But then, on Monday, the manager said: "I've told the players: 'You are embarrassing me, you are embarrassing our club, you are embarrassing our fans'."
And Stewart told Sportsound: "The players in the changing room in their own quiet moments will be shaking their head in disbelief. There's no stability within the changing room when a manager is saying one thing and then within 24 hours is completely contradicting himself.
"That's embarrassing, coming out and saying those things when straight after the game less than 24 hours before you were taking all the responsibility and saying, 'blame me'. All of a sudden, you're completely shifting the focus and saying, 'well actually, they're embarrassing me, the club and the fans'.
"That comment in itself is embarrassing because it suggests it's somebody that doesn't have a clue what they're talking about.
"Saying that the players are embarrassing him - eight of that starting line-up are players that have come into the club since he's been there so he's undermining his own position. It's not players that he's inherited. It's an absolutely ridiculous statement.
"There is no identity, no purpose and there is no progress getting made under Pedro Caixinha. What is it they're trying to do?
"Players don't just down tools, it's all about mental stimulation. If you've got a good manager, the manager stimulates you mentally and then it looks like you're going the extra yard."