Jersey players have potential to succeed in England says FA coach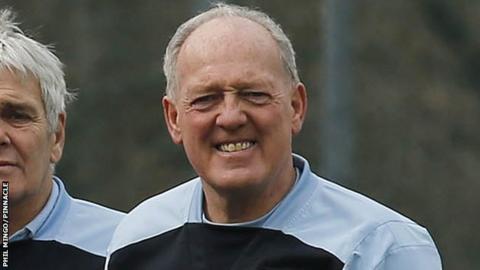 Jersey footballers need to be brave and take a chance at playing non-league football, according to the assistant manager of the England C team.
Mick Payne, who is also technical manager of the England amateur team, says there are Jersey players capable of playing at a higher level.
His comments come after Jersey keeper Euan van der Vliet narrowly missed out on selection for the England C squad.
"There is potential here, it's untapped potential," Payne told BBC Jersey.
The England C team is made up of players at clubs outside the English Football League - while Jersey's Premiership is an amateur league, and only a few islanders play in the English leagues.
'Brave step'
Jersey captain Cavaghn Miley joined National League side Eastleigh this summer after being recommended by former island boss Brian Little.
Brett Pitman is the highest-profile Jerseyman in the Football League with League One side Portsmouth while two islanders - Coventry City's Peter Vincenti and Colchester United's Kurtis Guthrie - play in League Two.
But with Jersey players having to give up careers and stable lives for the unpredictability of lower league football, Payne says an islander who takes a chance on non-league football would be courageous.
"It's a brave step, it needs family and people around them who are able to support them.
"If you can get the opportunity at a club you could find yourself on a small wage. It won't be the same as full time work, but it is a brave step.
"They might need to give it a year and see where it takes them."
Van der Vliet, 20, impressed Payne and the England C set-up with his performance for Jersey in a match against the FA's select side for non-league players in May, and was invited to a training camp earlier this month.
"He played with real presence and a real authority and I said to the manager Paul Fairclough that there might be an opportunity to get him over and see how he works in the set up with better players, who are playing in the National League and below, and he really did himself proud,
"He's one we're looking at and if I was a young player in Jersey I'd say 'this is great, one of these guys is being noticed'."
Van der Vliet did not make the England squad for their trip to face Slovakia in the final of the International Challenge Trophy, but Payne says he will help the former Southampton youngster if he wants to try and play off the island.
"He knows if he's going to progress he needs to get over to England and play in that environment.
"I've put his name out there, not just with sides in the National League, but also out there with some professional clubs.
"I'd be only too pleased to help guide and advise him and hopefully open some doors for him where he can pursue those opportunities."