Matty Fryatt: Former Nottingham Forest forward 'hopeful' of playing again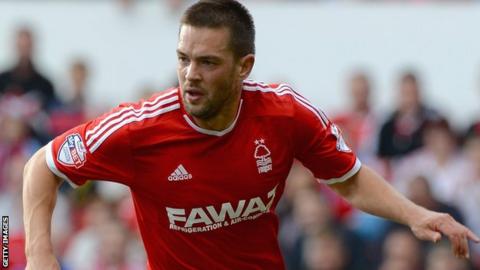 Former Nottingham Forest forward Matty Fryatt says he has not given up hope of playing football again.
Fryatt, 31, has not played since March 2015 because of a series of Achilles injuries, and is training with first club Walsall after a stint with Burton.
The former Leicester and Hull striker joined Forest in June 2014 but started only 17 games in three seasons.
"I still have to manage all these things. I am not fixed but I am giving it a go," he told BBC Sport.
"I'm trying. My contract expired at Forest and it was disappointing to play so few games.
"I know I am running out of time but if I can manage it, feel comfortable and if there is some hope, I will carry on.
"If that isn't the case I will have to call it a day but you are a long time retired, so if there is some hope I will keep on going and see what happens."
Fryatt, who spent five seasons with Leicester before a £1.2m move to Hull in 2011, left Forest when his contract expired in the summer.
"The pre-season at Burton came a little too soon for me as I was not really in the right condition for them, but it was good to be out there for two weeks with them," he added.
"The last month or so I have been training with Walsall, so they have given me an opportunity and I am still hopeful of giving it a go."
'Slight nick' on Achilles turns into long-term nightmare
Fryatt was brought to Forest by Stuart Pearce and scored two goals in his first four games as the Reds led the early-season Championship table, but his problems began in November 2014 when Forest were beaten 2-1 by Birmingham.
"The initial injury was 10 minutes before the end of the game away at Birmingham when I felt a slight nick of the back of my Achilles," he said.
"It felt nothing untoward. I trained on the Monday and just couldn't run. I played for two months with Achilles injuries where I was on painkillers to get through games.
"In the end it was unbearable and I was a statue on the pitch. From the March time until the end of the season I had a rest and from there I had numerous surgeries.
"The first minor surgery didn't work and I went in for a major surgery where they removed the tendon and smashed up the bone. I was in plaster for a few months.
"That surgery wasn't successful and I was put in for more surgery and that didn't go well. Before you know it, time had passed and it had nearly been a year not really getting anywhere."
Never met Montanier
Fryatt's final game for Forest turned out to be against Charlton at The Valley on 3 March, 2015, when he was substituted after 71 minutes in a 2-1 defeat, by which time Dougie Freedman had replaced Pearce as manager.
His injury nightmare continued under successive Forest managers, including Frenchman Philippe Montanier, who Fryatt never even met.
The forward added: "The French manager came in and I was off in the summer nursing the third surgery.
"By the time I had done rehab elsewhere at St George's Park and come back to the club, the manager had been sacked.
"You are on the sides, not even at the club sometimes or training elsewhere trying to get back fit. It has been nigh impossible to get fit again. Something I thought was small turned out to be a major injury."