Claudio Ranieri: Is former Leicester coach repeating success at Nantes?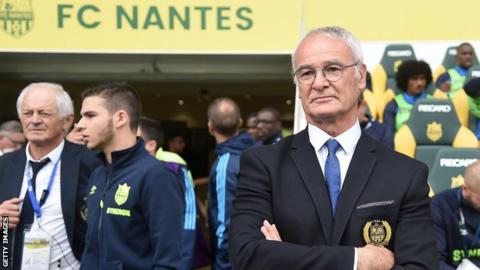 Unfancied side challenging the big teams for the title. Solid defence. Strong on the counter-attack. Sound familiar?
Claudio Ranieri shrugs off the comparison between Nantes and Leicester City, the club he led to an astonishing Premier League triumph two seasons ago. Just as he did then, the veteran Italian is downplaying expectations.
Nantes are Ligue 1's surprise package this season, third in the French top flight behind leaders Paris St-Germain and second-placed Monaco.
Les Canaris finished 44 points behind the champions last season but are in the hunt for their first top-flight crown since 2000-01.
"The French journalists asked me if there were some similarities between Leicester and Nantes," 66-year-old Ranieri told BBC Football Focus. "I said there is nothing. Only the manager is the same.
"Leicester was something special. It is not possible to repeat that in 50 years. It is not possible."
The stats though, makes for interesting reading. Of their 10 league games so far, Nantes lost their first two against Lille and Marseille but have since won four matches by a 1-0 scoreline and two games 2-1. There have been two further draws.
New team, old plan?
Nantes 2017-18
Leicester 2015-16
Stats for league games. Provided by Opta
Games
10
38
Goals scored (per game)
0.9
1.8
Goals conceded (per game)
0.7
0.9
Shots (per game)
11
13.7
Shots faced (per game)
12.8
13.7
Possession (%)
40.4
42.4
Win percentage
60
60.5
Points (per game)
2
2.1
Ranieri's side have conceded only seven goals at a rate of 0.7 per game - compared to 0.9 in his 2015-16 season with the Foxes - and have had possession on average for 40.4% in each match. At Leicester it was 42.4%.
Nantes spent £10m in the summer, while Monaco brought in £90m worth of talent and PSG splashed out a world record £200m on Neymar alone.
It is "impossible" to compete with PSG, says Ranieri, whose Monaco side were runners up to the Paris club in the 2013-14 season, having secured promotion from the second division the previous year.
"When I was at Monaco, the chairman told me PSG will win eight or nine titles in 10 years," he said. "When they lose a game, we have to stay there.
"For us, it is important to stay at this level, not to win or fight for the league. I am surprised [by the start] but I am always thinking about where we can improve.
"Looking at the table when you are high, you can work calmly with the players. They are more focused and happier and then you can point out the mistake.
"You can imagine doing that after a loss - it is not good for a manager.
"I play in this way because I want to bring out the maximum from my players. I have to feel what they can do. If I feel better that they can close the space and play on the counter-attack, I will play this way."
French view: Nantes - Ligue 1's Burnley
French football journalist Julien Laurens
No-one thinks Nantes can challenge for the title. The feeling is that they are punching above their weight at the moment. They are not on the level of PSG and not even on the level of Monaco or Lyon.
However, they have had a great start to the season and in 2017, only PSG and Monaco have won more points than Nantes. If they finish fifth or sixth, it would already be a great season. Anything above that would be exceptional.
Their style has been very defensive so far. They have not been great to watch at all, being so defensive and very clinical up front.
Ranieri identified quickly that his squad was better playing this way, so he worked a lot on his defence to make sure they were not conceding first before thinking about going forward.
Nantes are a bit like Burnley in the Premier League. They are very solid defensively, with a great defensive unit, great defensive skills who play on the counter-attack and are very efficient.
They don't create many chances but when they do, they take them. It will be hard for Nantes to keep being so efficient. Mentally it is very draining to keep defending so well and keep the lucidity as well to be clinical up front.
This Nantes squad doesn't have the talent that Leicester had with N'Golo Kante, Jamie Vardy or Riyad Mahrez. They don't have similar individual talents, although Valentin Rongier is a very good player in midfield.
English view: Nantes have head start over Leicester
BBC World Service Sport's John Bennett
Nantes' good start to the season may well have cost them some pizza.
Everybody remembers Claudio Ranieri's title-winning Leicester City team as being rock solid at the back from the off, but remember it took 10 Premier League games and the offer of free pizza before the Foxes kept their first clean sheet of 2015-2016.
The turning point was a 5-2 defeat by Arsenal at the King Power Stadium in September.
After that game, the Italian swapped attacking full-backs Ritchie de Laet and Jeffrey Schlupp with safety first full-backs Danny Simpson and Christian Fuchs.
Simpson's discipline in particular was crucial in allowing Riyad Mahrez to concentrate on going forward.
After conceding 17 goals in their first 10 games, Leicester went on to only concede eight goals in their next 10 games. It set the platform for one of the most amazing successes in sporting history.
So when it comes to defending, having conceded only seven goals in their opening 10 Ligue 1 games, Ranieri's Nantes have a head start over Ranieri's Leicester.