Bolton Wanderers: Championship club end discussions with potential investors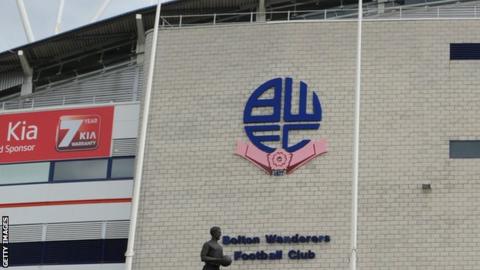 Bolton Wanderers have put an end to discussions with potential investors.
Chairman and majority shareholder Ken Anderson had previously said Wanderers had received "many enquiries" from all around the world to invest in the Championship's bottom side.
But to "bring closure to unhelpful speculation" in the media, Bolton said they would no longer listen to offers.
"Any ongoing discussions with investors will be terminated with immediate effect," the club said in a statement.
"No further expressions of interest will be entertained for the foreseeable future."
Anderson's Inner Circle Investments, alongside former Bolton striker Dean Holdsworth's Sports Shield BWFC group, completed a joint takeover of the club in March 2016.
When Sports Shield was liquidated in August over an unpaid £5m loan used to complete the takeover, Inner Circle purchased its remaining 37.5% shareholding to own all of Burnden Leisure Limited - Wanderers' parent company.
Bolton, who had a transfer embargo lifted in September, have taken just six points from 13 games so far this season.