Barry Ferguson: 'Next Rangers manager must know club inside out'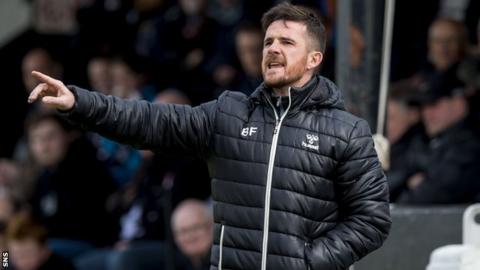 Former Rangers captain Barry Ferguson believes the club's next manager should know the club "inside out".
Ferguson, "not surprised" at Pedro Caixinha's sacking, said football is a "results-driven business".
"I just want somebody who knows the club and the expectations," Ferguson told BBC Scotland.
"I want someone who knows what it's all about to manage Rangers, and can get that hunger back into the team. The next appointment has to be right."
Ferguson was was one of several coaches with links to the club who were interviewed by Caixinha for a role in his backroom staff, which was eventually filled by Jonatan Johanssen.
'It's a big rebuilding job again'
Ferguson was captain at Ibrox during Paul Le Guen's eight-month spell in charge, and believes Caixinha's successor should have an affinity with the club.
"That's me speaking as a fan. I just want somebody who knows the club and the expectations," Ferguson said.
"We know we're a bit behind Celtic just now, but when you go out there [on the pitch] the fans expect 100% workrate.
"The only issue is Pedro signed 10 or 11 players - a new manager coming in, does he fancy those players? Do you think they're good enough? That's going to be an issue. So it's a big rebuilding job again.
"Rangers fans will stick behind their team no matter what. I've no doubt they'll stick behind the club and, whoever comes in, they'll give them time. That's what they did with Pedro."
Caixinha was dismissed after the team slipped to fourth in the Premiership following a 1-1 draw against Kilmarnock at Ibrox in which the home side missed an injury-time penalty then conceded an equaliser.
That draw came three days after Rangers lost the Scottish League Cup semi-final to Motherwell, with Caixinha never having won three games in succession during his seven months in charge.
"At full time last night I did think that it could be the end for him," Ferguson said.
"You don't like to see anybody being sacked or lose their job, but I'm afraid that, at Rangers, the expectation is of winning games and the fans (were) getting restless. I'm not surprised.
"I did expect him to get a few more games, simply because of the money they'd invested in the summer in the players Pedro Caixinha wanted. I thought he might've got another game or two.
"But I know what it's like at Rangers with the high expectations: going out of Europe early and being beaten in the semi-final and a winning run of only two games - I can see why he got sacked but again, he spent a lot of money in the summer, not just on transfer fees but also wages."