Homophobia in sport: Football Manager to feature gay players
By Patrick Jennings
BBC Sport
Last updated on .From the section Football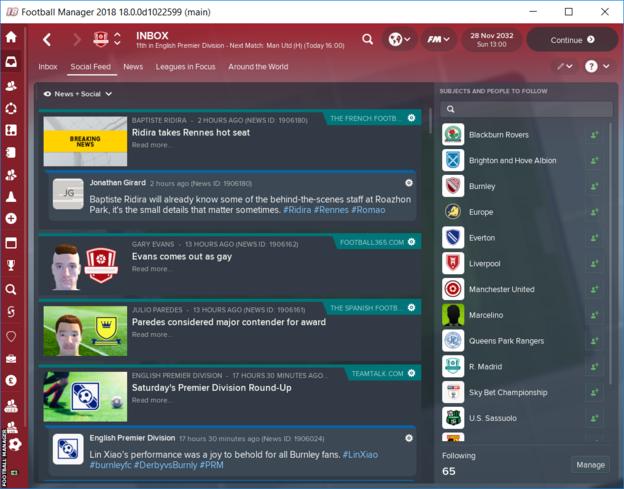 Modern elite male British football is still waiting for its first openly gay player. Maybe Football Manager can help.
In this year's edition of the computer game, players come out.
"Part of the reason we decided to do this is because there are gay footballers," Miles Jacobson, the game's director, told BBC Sport.
"We know from the amount of professionals that there has to be players who are gay but feel they don't want to come out.
"I find it weird that it's still a problem in football so we decided to try and show people that coming out isn't a big deal and can be a positive thing.
"I just think it's crazy that in 2017 we are in a world where people can't be themselves."
So how does it work?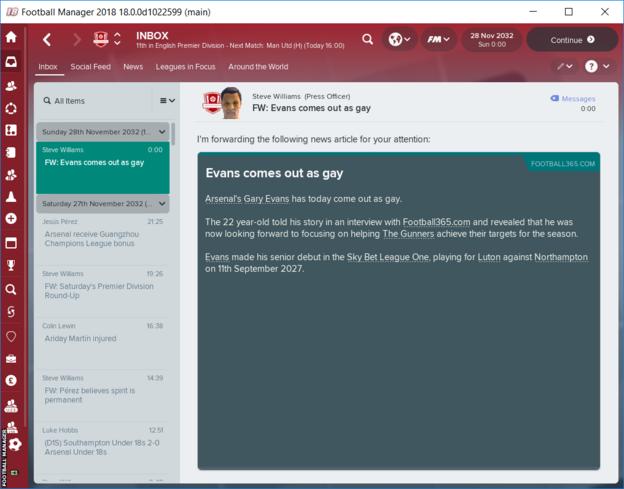 We're not talking about real-life players. Instead it's the fictional, computer-generated youngsters who appear as others retire, refreshing the game's database at the end of each virtual season.
Those who know their Football Manager call these fictional players 'newgens'. Without them, the simulation could not progress - as it does - into the next century and beyond.
Jacobson said they were "able to do things with these players that we can't with real players, because they can't sue us".
He explained that, if one of these players at your club comes out, you'll find out from a news item in your in-game inbox.
Soon after, your commercial director will inform you of a boost in the club's revenue, in part due to new attention from the lesbian, gay, bisexual and transgender (LGBT) community.
Thomas Hitzlsperger became the first openly gay man to have played in the English Premier League when he came out in 2014 - four months after he retired.
The former Germany midfielder, who played for Aston Villa, Everton and West Ham, said he "could not imagine playing football and doing this at the same time".
Former Leeds and United States midfielder Robbie Rogers came out as gay a year earlier. He also decided he had to leave the game to do it, before returning to football in the MLS with LA Galaxy.
Before Rogers, there was the first. The tragedy of Justin Fashanu, who took his own life in 1998, eight years after coming out as gay.
Jacobson says that, after taking advice from anti-discrimination group Kick it Out, and having closely examined cases of players coming out in other sports, they believe they have arrived at the most representative future scenario.
"It will be: Right, OK, let's move on. Everything will carry on perfectly normally, because that's what we've have seen happen elsewhere," he said.
"It's not a message that everyone is going to see in their game. It is quite rare, but we want it to be seen as a positive thing.
"We also had to take some legal advice, because in some countries that are less forward-thinking than the UK, it is still illegal to be gay. In those cases we have simply respected their laws, so if a player is based in one of those countries, the player won't come out.
"Being gay is just a totally normal thing in life, and it's the right thing to put it in the game because it's something that we're going to be seeing in the future."
Emboldened by Brexit
In last year's edition of the game, Brexit arrived.
There were various scenarios; "soft" and "hard" versions of Brexit complicated transfers involving UK clubs and EU nationals, including players from a Scotland that had decided to break away from Britain.
Jacobson says the reception it got emboldened the development team to include gay footballers this time round. But they had not intended for people to find out until the game's release on 10 November.
"The Brexit feature was quite controversial, there were some people who didn't like it being in the game," he said.
"But it helped us realise we can be a bit more outward in our thinking in trying to make the world a better place.
"For that reason we were not going to announce it ourselves. We have been careful not to feature it in videos, or mention it in any releases."
He said it was not about changing opinions, but rather about "normalising the issue".
"We are not going to be able to change the mind of someone who is homophobic, we don't have that power, and if someone has that issue and decides not to buy the game for that reason then to be honest I feel really sorry for them," he said.
"Hopefully, it will make some people look up and think, 'this is ridiculous'."
What has the reaction been?
Replying to a BBC Radio 5 live survey in October last year, a majority of supporters asked in England, Wales and Scotland said they would be comfortable with their club signing a gay player.
It found 82% would have no issue with a gay player, but 8% said they would stop watching their team.
Jacobson says that the reaction from gamers has so far been overwhelmingly positive.
"We get to entertain a lot of people, the average playtime a year is around 200 hours (the series has sold more than 15 million copies).," he said.
"I've had half a dozen negative replies on Twitter, when I would normally get more if I told people they were getting a free diamond with their copy of the game.
"I do think it's about time that footballers who are entertaining people around the world every week are actually allowed to be themselves rather than act as someone that they're not.
"I look forward to the day where people who work in football feel 100% comfortable with who they are, whatever their ethnicity, religion, or sexuality."