Troy Deeney: Watford captain accepts violent conduct charge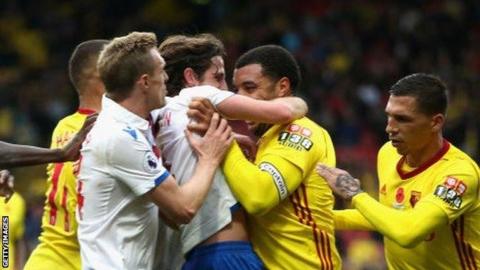 Watford captain Troy Deeney has accepted his violent conduct charge and will serve a three-match ban with immediate effect.
Deeney was charged after a clash with Stoke City's Joe Allen during Watford's 1-0 home defeat on 28 October.
Deeney will miss the Premier League matches at Everton on 5 November, West Ham's visit on 19 November and away to Newcastle on 25 November.
He will be available for Manchester United's visit on 28 November.
Deeney, 29 and Allen, 27, were booked after squaring up in injury time last Saturday.
Allen reacted angrily when Deeney appeared to attempt a cross, rather than pass the ball back, when Stoke kicked the ball out after an injury.
A Football Association statement read: "The misconduct was not seen by the match officials at the time but caught on video."
Stoke boss Mark Hughes said after the Vicarage Road game that striker Deeney, who appeared to grab Wales international Allen's face, should be punished.
"Clearly we kicked the ball out and the right thing to do in the spirit of the game is throw it back," he said.
"Deeney, the captain of the club, should know better but he shaped to play it into our box and that's why Joe reacted.
"More often than not those situations get revisited by people in authority and decisions are made as a consequence."
Watford are eighth in the Premier League table.
Deeney has featured in eight of their 10 league games this season, scoring a penalty in the 2-1 home win over Arsenal on 14 October.