Man Utd v Benfica: Jose Mourinho says 'no drama' over choice of penalty taker
Last updated on .From the section Football199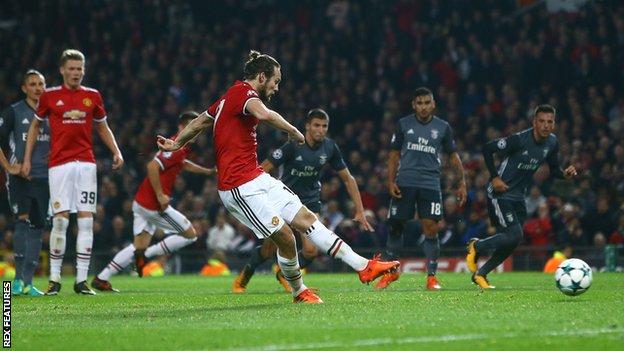 Manchester United boss Jose Mourinho says there should be no "drama" about his decision to stop Romelu Lukaku from taking a penalty that could have ended his run of six games without a goal.
Lukaku, signed in a £90m deal, has been criticised by some fans as he has failed to find the net since September.
He put the ball on the spot for United's second penalty in the 2-0 win over Benfica, but Daley Blind took it.
"The players respected my decision. End of story," said Mourinho.
"My decision based on what we did in training in the past couple of days was Blind. I don't see the drama because there is no drama on it."
Blind's 78th-minute goal sealed a victory that took United within one point of the knockout stage with two group matches remaining.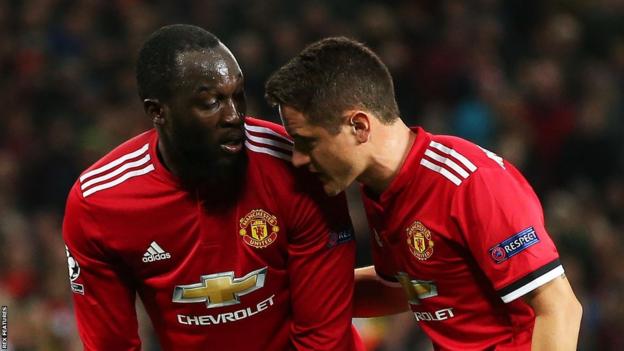 Mourinho said: "Romelu wants to take, he has the personality to take the responsibility. Ander Herrera was the same."
The incident came a day after Mourinho said Lukaku - who scored 11 goals in his first 10 games for the club - should be "untouchable".
Fellow forward Anthony Martial, who missed a penalty in the first half, had been substituted when Marcus Rashford was tripped for the second spot-kick.
Mourinho added: "The penalty taker for this match was Martial. He took in the first half and missed. He was not even on the pitch when the second one was given and then I have to make a decision.
"I am paid to take decisions, good or bad. In the first half the decision was bad because the player that I chose to take the penalty missed."
After Blind scored, Mourinho made a 'chatting' gesture - which some have interpreted as being directed at fans and pundits who have been critical of the side's style of play in recent Premier League games.
Last month's 0-0 draw at Liverpool, where chances were at a premium, was followed by a 2-1 defeat at Huddersfield and a 1-0 win over Tottenham at Old Trafford on Saturday.
In his programme notes for Tuesday's game, Mourinho wrote: "I hope you enjoy the game more than some of you did against Tottenham."