Fifa corruption scandal: Costas Takkas is second official sentenced
Last updated on .From the section Football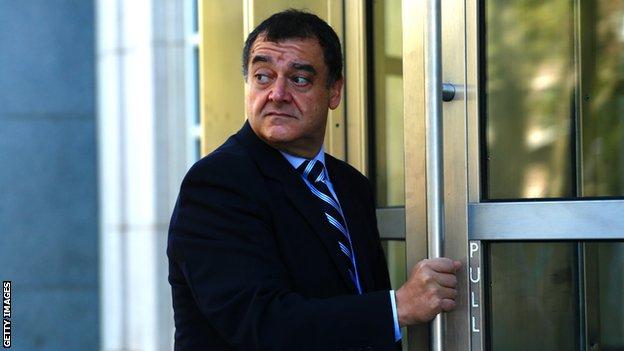 The second football official sentenced as part of the Fifa corruption scandal says he "hopes the sport learns from this case".
Costas Takkas, former general secretary of the Cayman Islands Football Association, was sentenced to 15 months in prison by a US judge on Tuesday.
The British citizen pleaded guilty to a part in a money-laundering conspiracy, after receiving and transmitting millions of dollars in bribes.
"I should have known better," he said.
"I feel big remorse. It's not in my nature to cause anybody harm. I love football."
Takkas, who was born in Cyprus, was one of several Fifa officials first arrested in Zurich in May 2015 at the request of US authorities.
The 61-year-old was detained in Switzerland while awaiting extradition to the US and has already served 10 months in custody.
He was also ordered to pay $3m restitution, shared with former Fifa vice-president Jeffrey Webb, who pleaded guilty to several charges in November 2015.
Since May 2015, federal prosecutors have indicted about 40 sports and football executives linked to football in the Americas.
Hector Trujillo, a former judge in Guatemala, last month became the first person to be sentenced in the investigation after pleading guilty to wire fraud and conspiracy.