Truro City: FA Cup first-round debutants searching for a new home
By Brent Pilnick
BBC Sport
Last updated on .From the section Football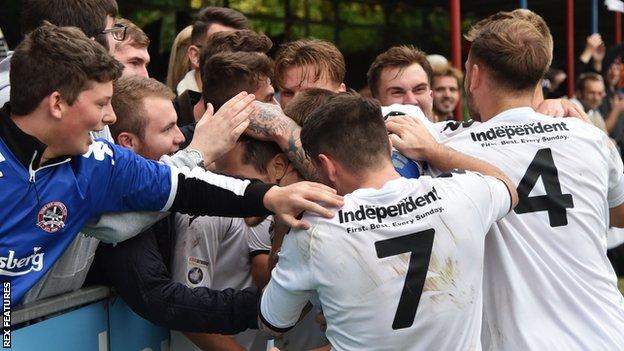 Whatever happens at the Valley on Sunday, Truro City have already made history.
And the tie at Charlton Athletic will be the first time the National League South club have played a Football League side in a competitive game.
Just over a decade ago, City were playing local league football in Cornwall, and a rapid rise almost killed the club five years ago when their former chairman went bankrupt and the money ran out.
Truro sold their Treyew Road ground to developers for £1 in exchange for financing a new ground, and now they finally want to start building the retail park that has long been planned.
It means the club will be looking for new digs at the end of the season.
Stadium for Cornwall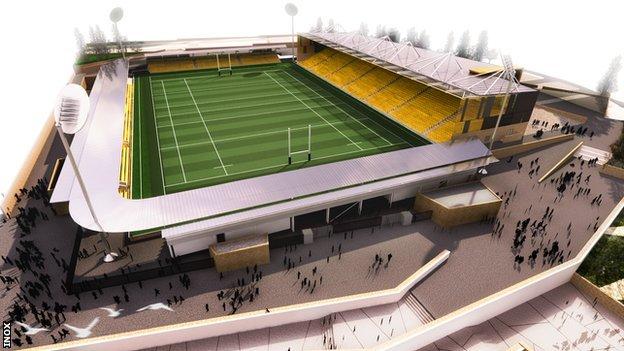 Having invested £1.3m in the club since saving it in 2012, chairman Peter Masters and vice-chairman Philip Perryman have no intention of being nomadic for long.
They had plans to build a new stadium on a site known as Silver Bow on the outskirts of Cornwall's capital, while 'across the road' the county's other big sporting team - rugby union's Cornish Pirates - moved towards occupying the proposed £10m Stadium for Cornwall.
But despite planning permission being granted for both sites in July 2015, after an at times tortuous process, spades have still not gone in the ground.
And in April, Truro abandoned plans for Silver Bow and signed a deal to share the Stadium for Cornwall.
"Phillip Perryman and myself are not quitters, we're investing in the club and we can see a sustainable future at some point, and that sustainable future involves us being in that Stadium for Cornwall and we need to be there within the next 24 months," Masters told BBC Sport.
"The stadium at Silver Bow was too expensive to build, the project was approaching £7.5m and it wasn't financially viable for the developers at Treyew Road.
"We've had to take a couple of deep breaths, along with the Pirates and Truro and Penwith College and we thrashed out a deal between us which is to the benefit of the three parties and the whole of Cornwall, because it is an asset for Cornwall."
Groundshare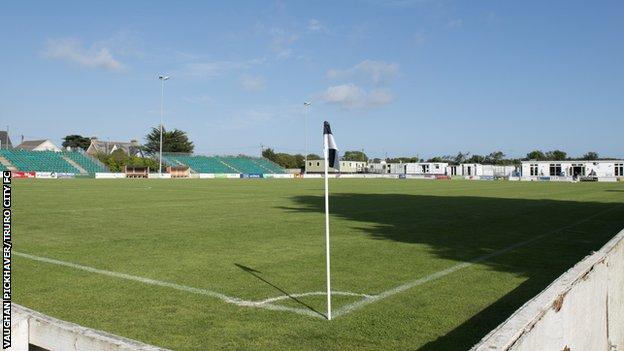 Nobody can build a 6,000-capacity stadium in nine months, so come the end of this season Truro City will be playing somewhere else.
With no Cornish grounds big enough, should Truro be promoted from National League South they would have to cross the Tamar and look to Devon for a temporary home.
Torquay United would be favourites - the clubs agreed a groundshare deal almost two years ago when City first thought they would be leaving Treyew Road - and the respective chairmen are good friends.
Should they stay in the sixth tier, though, they could instead becomes tenants at Bodmin Town's Priory Park, having agreed a groundshare deal in March in anticipation of last season being their final one at Treyew Road.
"We've got everything available to us, but it depends on how want to take the club forward," said Masters.
"If we got promoted I wouldn't want to turn it down, I'd love to be playing in the National League and get all these bigger teams down."
The long term
Both of the Stadium for Cornwall's prospective tenants have suffered financial problems in recent years.
While City went into administration five years ago, Cornish Pirates, who play in rugby's second-tier Championship, almost went to the wall just over a year ago before former owner Dickie Evans returned and re-financed the club
Many professional sports clubs live life on a financial knife-edge, and with the nearest away game for either 150 miles away, their costs are even greater.
"It must happen," Masters said of the Stadium for Cornwall.
"If it doesn't happen there will be no Pirates playing at the level they are and there will be no Truro City playing at the level we are and we won't be enjoying days like we will be enjoying on Sunday."
He continued: "I'm confident that the Stadium for Cornwall will be built.
"We've done our bit, and the finances are in position, it's just a few teething problems we've got to sort out and once we've got the bits sorted we will be putting the spades in the ground,."
It seems that if Truro City supporters want Sunday's FA Cup first round trip at Charlton to be the first of many such days out, rather than the last, the new ground must be built sooner rather than later.