Sunderland: Where is the hope after another manager departs?
Last updated on .From the section Sunderland95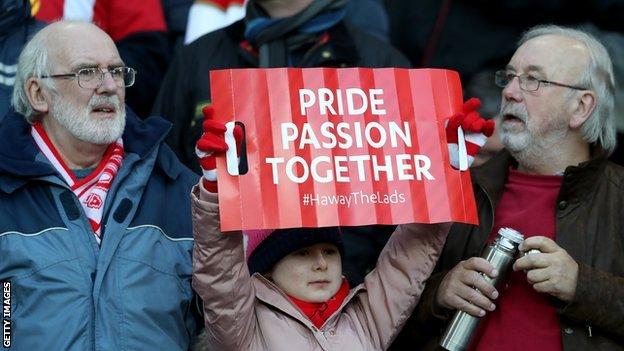 Ask any fan of a struggling team and they will tell you one thing: it's the hope that kills you.
But what is it like supporting a club where even hope seems extraordinarily thin on the ground?
Relegated from the Premier League last season after finishing bottom of the table - when they were 16 points from safety - Sunderland's downward spiral has continued this term.
No win in 12 games. No home victory in 2017. And, after Simon Grayson's sacking after just 18 matches in charge following Tuesday's 3-3 draw with fellow strugglers Bolton Wanderers, no manager.
For the sixth time in the last four years, Sunderland are looking for someone else in the dugout to reinvigorate a club where the fans aren't happy and the owner wants to sell up.
"Sunderland are a club in a desperate plight," BBC Radio 5 live's senior football reporter Ian Dennis told BBC Sport.
"Owner Ellis Short wants to sell, money is in short supply, the players - bereft of confidence - are massively under performing and certainly not justifying a wage budget of over £30m, and there is apathy amongst the supporters.
"The Bolton match extended a sequence since December 2011 where Sunderland have conceded the first goal in 58 home league matches - they've come from behind to win just once."
The current evidence suggests the road back for the Black Cats could be long and difficult.
So what is it like being a Sunderland fan and how confident are they that the good times will return?
How bad has it got for Sunderland?
By any standards, there has not been a lot for the fans to shout about at the Stadium of Light.
The last home win was a 1-0 victory over Watford in the Premier League on 17 December 2016 - nearly 11 months ago

No team in the history of the Football League has gone 20 games without winning at home. Sunderland have gone 19

When they briefly led Bolton 2-1 in Grayson's final match in charge, it was the first time they had been ahead at home in 2017

Their current tally of 10 points from 15 Championship games is the worst return for a side just relegated from the Premier League
The club's decline in results dates back further than the last 12 months. Unsurprisingly, their struggles in the top flight since 2012-13 have led to a host of managerial casualties.
Since Short made his first appointment - Steve Bruce in June 2009 - seven further permanent managers have come and gone.
And since Roy Keane left after resigning in December 2008, none has surpassed his win percentage ratio of 42%.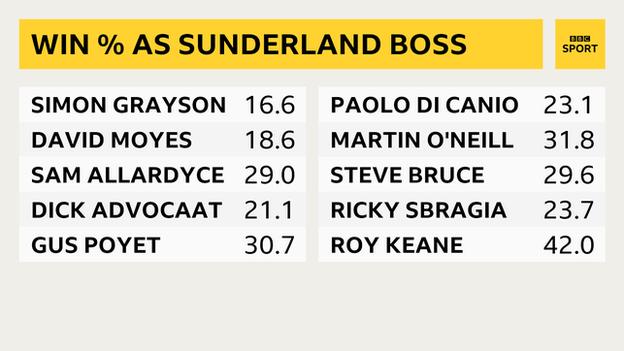 'Only Sunderland would find a worse manager than David Moyes'
Statistically speaking, Grayson's short reign was less successful than that of former Everton and Manchester United boss David Moyes, who resigned after relegation from the Premier League last season.
And for some fans, life under Grayson seemed to sum up where the club is at the moment.
"We've gone through more than our fair share of managers in recent times yet Grayson manages to trump them all in the speed with which he lost the dressing room and his inability to positively influence a game through tactics," Gary McLaughlin from the Sunderland fans' website We Are Wearside told BBC Sport.
"After such a long stay in the Premier League you'd expect me to be pretty downbeat about being in the relegation zone in the Championship.
"However, if anything captures the despondency of Sunderland fans, it's the fact that I can't muster up any significant emotional feeling.
"That mentality towards football is unheard of in this region - we're meant to live and breathe the game - but I go to the stadium fully convinced we're going to be beaten. The only entertainment at the stadium these days is guessing what minute the lad in front leaves. He hasn't seen a full game since we beat Watford.
"Only Sunderland would find a worse manager than David Moyes."
'There are children not conceived the last time we won at home'
Paul Dobson from the independent supporters' magazine A Love Supreme is another disgruntled voice.
"It's pretty bad going to games because you turn up and see all the empty seats with people deciding quite understandably they've got better things to do with their lives than be disappointed," he said.
"You're supposed to be entertained in football but it's quite demoralising - something across the club needs to change. We feel that very strongly.
"It's very difficult to stay optimistic. You see individuals who can do good things but you don't see a pattern.
"Part of being a fan is being ridiculously optimistic and unrealistic - we've got decent players and there's no reason why we can't make a half-decent Championship side out of the players we've got.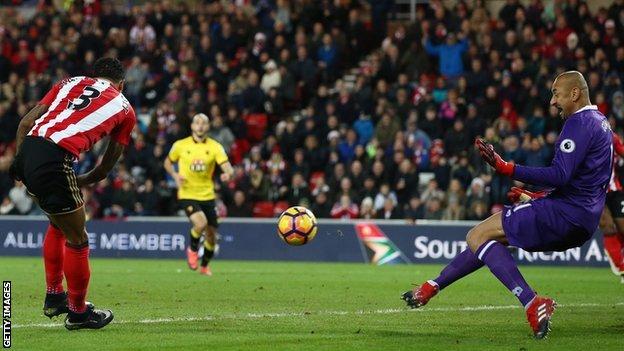 "There were two minutes last night when we were in the lead and that's the only time we've been in the lead at home in a league game in 2017 - there are children alive now who weren't conceived when we last won a home game in the league."
The man who hasn't seen a home win
Black Cats fan and journalist Phil Smith covers the club for the Sunderland Echo newspaper and, after returning to the north east in January, he has remarkably yet to see the side experience a victory at the Stadium of Light.
"It was Roy Keane who said that a result makes or break the week of people in Sunderland," he told BBC Sport. "You grow up here, the sense of community and the connection with the region is something that you never lose.
"Having spent time away the opportunity to come back was one that you can never turn down, even though the decline under David Moyes had long since set in by the point I did.
"The winless run at home has at times seemed barely credible. The pattern of the game is so similar, a bright start followed by a painful collapse. The manager's not been able to find a solution but it has been tough to watch so many players wilt under the pressure week in, week out."
'I look forward to the pre-match lunch more than the game'
"There is never a dull moment but the moments are generally mired in a miasma of failure and despondency. Ten years in the Premier League was all well and good but on average Sunderland only won seven games a season," said Nick Barnes, BBC Newcastle's Sunderland commentator.
With the club looking for their 12th manager (including caretakers) in the 15 years he has been following the club, Barnes was expecting more from Grayson's reign.
"I'm surprised Simon Grayson failed. He seemed the perfect fit, if there is really such a thing, with his experience at this level with Leeds and Preston, let alone all the other clubs he's managed in the Football League.
"But he too has been sucked into Dante's cursed inferno of failed managers on Wearside. His CV stood up to scrutiny. So did Steve Bruce's, Martin O'Neill's, Dick Advocaat's and so on. They're not all bad managers. The problem is the football club.
"One travelled the country more in hope than certainty and the only thing to look forward to was the pre-match hospitality. The extensive menu offered at Stamford Bridge couldn't be bettered although Manchester City and Arsenal ran them close.
"Now it's an under-heated pie at Griffin Park or a cup of tea at Oakwell and a burger from a van. Don't get me wrong, I love the Championship. I love its raw untarnished sense of realism. 'Real' football again. Proper old grounds like Oakwell and Craven Cottage. No red tape and an endless succession of post-match interviews that by the time the manager reaches you he's all talked out and just wants to get on the bus.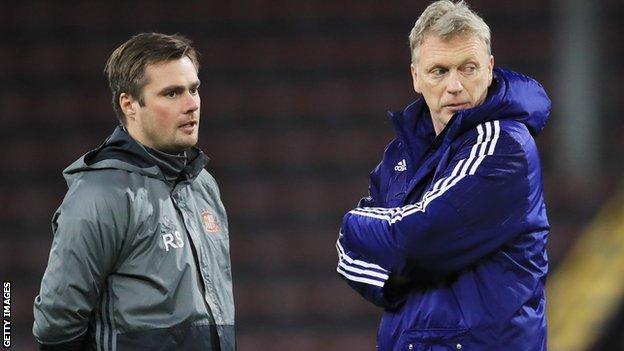 "At the moment it's hard to see where or when the club is going to bounce back, such is the malaise and the disarray, but it will."
Despite being in the midst of familiar anguish and frustration, there might be a glimmer of hope for Sunderland supporters.
Billy McKinlay and Robbie Stockdale have been named as the latest caretakers to try to steady the ship before the weekend's derby at Middlesbrough.
But nothing would do more to start the recovery than delivering that elusive home win - and the fixture list appears to be doing its best.
The next six visitors to the Stadium of Light - Millwall, Reading, Fulham, Birmingham City, Barnsley and Hull - are all in the bottom half of the table.
For Sunderland supporters, that run of friendly-looking fixtures is what amounts to hope at the moment.