Celtic show signs of maturity in narrow defeat by Bayern Munich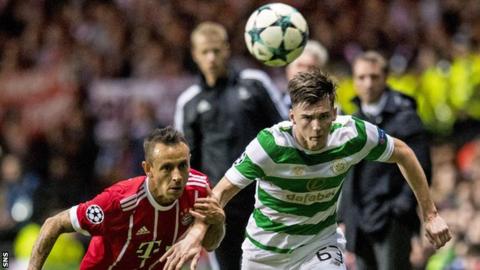 If only Celtic Park's capacity to raise the dead with the decibel levels of their supporters could be matched by the team's ability to deliver results against the elite. If only.
For Celtic, the bottom line is unforgiving. Their Champions League loss to Bayern Munich was the latest in a long line of home games without a win in the group stages of Europe's competitions. It's been four years and 10 games since they've had success there at this level.
That's seven defeats and three draws in a ground that could once be described as a fortress no matter who fetched up.
That's the reality, but there's a little more to it. At least, there was more to it this time around. Another loss, yes. But a nuanced loss, a loss that contained one defensive horror show that cost them a goal, a poorly defended cross that cost them another but, also, a whole load of other things that made the defeat easier to stomach than some of the performances that went before it.
Celtic crave progress among the big hitters and they got it on Tuesday. As they went after Bayern in pursuit of an equaliser that would eventually come, the mind drifted back to a certain press conference in Slovakia, an utterance from the top table in what turned out to be Gordon Strachan's farewell.
Genetics? There were six Scottish players on the field from the start against Bayern and most of them were stand-outs even though, in the world of the former Scotland manager, they shouldn't have been able to compete given their lack of physical bulk.
Kieran Tierney was terrific in handling Arjen Robben at one end and in offering attacking support at the other. James Forrest produced one of the most complete games of his Celtic years while Callum McGregor added more ballast to the view that he is a player of wit and awareness, a quick thinker and a technically accomplished operator on his best days. None of them looked out of place. In fact, they looked at home in exalted company.
The night ended in failure, but Celtic found a way of competing and that's one thing they have to be pleased about.
Previously, against the true modern-day superpowers of Barcelona, Bayern and PSG they'd conceded 17 goals and scored zero. Of those four games, three were over by half-time and the other was done after 55 minutes.
This was a contest to the end. Brendan Rodgers bridles at the very mention of the word 'pragmatic'. In the wake of the 7-0 loss to Barcelona, the 5-0 defeat by PSG and the 3-0 beating against Bayern, he railed against the notion that he should play a more defensive-minded style of football. He took the criticism as a call for him to park the bus against the best, as an affront to his footballing principles.
It was never meant that way. Rodgers was not pragmatic against Bayern, but he was clever. He picked players in a formation that could defend and attack with a balance that gave them a chance.
He didn't abandon his beliefs, he tweaked them and found something that made Celtic competitive. That's all people can hope them to be against the high rollers of Europe.
This, of course, was an underpowered and yet still successful Bayern. That has to be stated, but not over-stated. Before kick-off, a German journalist spoke about Juup Heynckes and the team he'd selected. Already denied Manuel Neuer, Franck Ribery, Thomas Muller and Robert Lewandowski, Heynckes decided to leave other go-to men Mats Hummels, Joshua Kimmich and Thiago Alcantara on the bench.
Those three were an integral part of the 3-0 humbling of Celtic at the Allianz Arena a fortnight ago. Hummels and Kimmich scored that night.
The football writer explained the thinking. Bayern don't believe that they can beat PSG to top place in the Champions League pool so there was no point in taking unnecessary risks with important players in Glasgow. They have Borussia Dortmund to play this weekend, so it made sense to rest some of the stellar names.
"This is Bayern's B team," said the journalist. He also added that everybody at Bayern expected the B team to be good enough to beat Celtic's A team. They were right.
Bayern's B team is worthy of closer analysis, though. Instead of Kimmich at right-back they had the Brazilian Rafinha, winner of five Bundesligas in his near-200 games for the club. Instead of Hummels at centre-half they Nicklas Sule, the 22-year-old Germany international who rejected Chelsea to join Bayern in the summer for close to £20m.
There was no Thiago from the start. Rather there was Corentin Tolisso, the current France international who cost £35m from Lyon. Tolisso started both of France's most recent World Cup qualifiers. Arturo Vidal started in Muller's absence. The midfielder has won four Serie A titles with Juventus, two Bundesligas with Bayern and two Copa Americas with Chile.
Without the great Lewandowski, Bayern went with James Rodriguez as a false nine. Rodriguez has won league and European titles with Porto and Real Madrid, who paid 80m euros for him after he won the Golden Boot with Colombia for his World Cup brilliance.
A second-string? Well, yes. But these things are relative. Bayern boasted league championship winners from seven different countries in their starting line-up. Those players have amassed more than 420 international caps and more honours than you can shake a stick at. They also had two Germany internationals and one Spain international coming off the bench. More caps, more trophies, more class.
Tuesday officially confirmed that Celtic can't qualify for the last 16. It was hardly a revelation. What does European progress look like for Rodgers' team? For one, a sense that they're maturing against the biggest teams. There's a mighty test of that to come before a conclusion can be drawn.
The show now moves on to the footballing torture chamber that is a visit to PSG. The French have scored 53 goals in 16 games so far this season. At home they have won eight out of eight and are operating at an average of close to four goals per game. Neymar has 11 in 12 appearances, Edinson Cavani has 15 in 15. In their latest slaughter of innocents, their 5-0 rout of Anderlecht, their full-back Layvin Kurzawa got a hat-trick.
Celtic can only hope to survive, but a place in the last 32 of the Europa League is their true barometer. They're on course for that. A place in the last 16 should not be beyond them if the draw is kind.
Against Bayern, Rodgers lost another game in the ultimate testing ground - his Champions League record as a manager now reads played 16, won two - but may have hit on something that offers hope.