Tottenham 3-1 Real Madrid: The result that makes Spurs Champions League contenders?

By Phil McNulty
Chief football writer
Last updated on .From the section Football721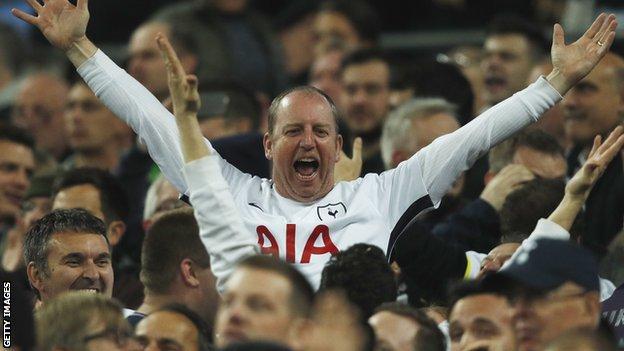 Mauricio Pochettino was not hiding his ambitions or Tottenham's aspirations after they illuminated Wembley with a magnificent Champions League victory over holders Real Madrid.
Spurs manager Pochettino saw enough to say they can now keep company with the best in Europe as well as England - and few would argue with the Argentine based on the compelling evidence offered in a thrilling 3-1 win.
Pochettino now wants Spurs to cross the threshold from progress to the tangible reward of trophies having previously made it clear he regards the Premier League and Champions League as the serious prizes.
So how significant was the message sent out by the manner in which Cristiano Ronaldo, Luka Modric and company were sent packing?
Is this Spurs' landmark moment?
Spurs have had their highlights in the Champions League before. In 2011 a campaign ended with a 5-0 aggregate loss to Real Madrid in the quarter-finals, but not before a thunderous night at White Hart Lane when Inter Milan were beaten 3-1 and a 1-0 win in the San Siro that helped put AC Milan out in the last 16.
This, however, may be the moment and the night that Pochettino's Spurs announced themselves as a European power to be taken very seriously - perhaps too early to be considered potential winners but a team with the capabilities to trouble any other in the Champions League.
If nothing else, victories like this will convince Spurs that they need fear no-one left in this competition.
Pochettino said the win would "make us more visible". In others words, the rest of the Champions League elite would sit up and take notice.
And so they should because Pochettino and Spurs were brave in their tactical approach, played with an intoxicating combination of intensity, pace, power and subtlety that was, as coach Zinedine Zidane admitted at his rather sombre post-match briefing, simply too good for Real Madrid.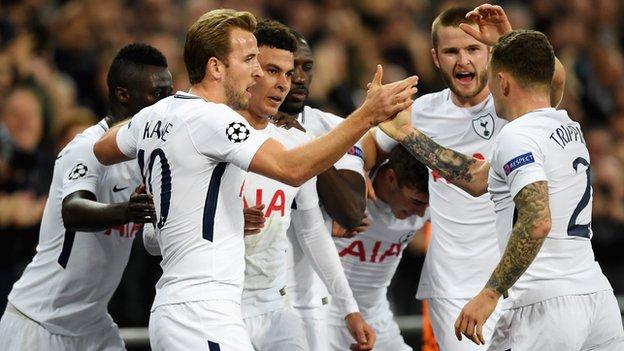 The club of "Galacticos" had not lost a group stage game in the Champions League for five years, a run stretching back 30 games, but they were given a thorough going over at an ecstatic Wembley.
It was Real's biggest margin of defeat in a Champions League group game since they lost 2-0 to Juventus in November 2008 and it was Spurs' first win against the Spanish giants at the sixth attempt.
Real may have been missing Spurs old boy Gareth Bale but Pochettino's side still had Ronaldo, Modric, Isco, Marcelo, Sergio Ramos, Toni Kroos and Karim Benzema to deal with and they did so in quite stunningly effective fashion.
And, with the words of Manchester City manager Pep Guardiola about "The Harry Kane Team" a source of irritation to Pochettino, this was a team victory. Spurs are a team that think and move quickly.
Dele Alli, with two goals and a powerhouse performance, will take much of the credit but high quality in all areas characterised a win that will announce Spurs as moving even closer to being the real deal.
Kieran Trippier's right-flank raiding created problems all night and led to Alli's first. Jan Vertonghen was a dominant defensive presence. Harry Winks looks perfectly comfortable as a Champions League performer, while the elegant, incisive Christian Eriksen was at the heart of so many good things and got Spurs' third goal for good measure.
And the manner in which Spurs coped with the early loss to injury of defender Toby Alderweireld made the whole package even more impressive.
Pat Nevin, an analyst at Wembley for BBC Radio 5 live, said: "It really could have been a battering from Tottenham. I'm slightly disappointed that they conceded because it could have been 4-0.
"This result will reverberate around Europe."
Spurs have an English heart
England manager Gareth Southgate and his key backroom ally Steve Holland were at Wembley on Wednesday - and will have left delighted with what they had seen.
As Southgate prepares to name his England squad for Wembley friendlies against Germany and Brazil later this month, having secured qualification for next summer's World Cup, he was able to enjoy the contribution of five players he could have with him in Russia.
Alli was the goalscoring match-winner, Trippier the creator who offered width. Eric Dier provided a solid base and, while Kane may not have hit the target, he demonstrated his power, a quality occasionally overlooked, by brushing off the not inconsiderable figure of Sergio Ramos and vision with the pass that set up Eriksen's composed finish that effectively ended Real Madrid's interest in the contest.
And for 21-year-old Winks, who made his England debut in the qualifying win in Slovenia, this was another chapter in his dream season.
The midfielder, neat and tidy in appearance as well as playing style, was an outstanding contributor and fully deserved the standing ovation he received as Spurs established that three-goal lead.
If this was a great night for Spurs, it was not a bad one for the watching Southgate either.
What Wembley curse?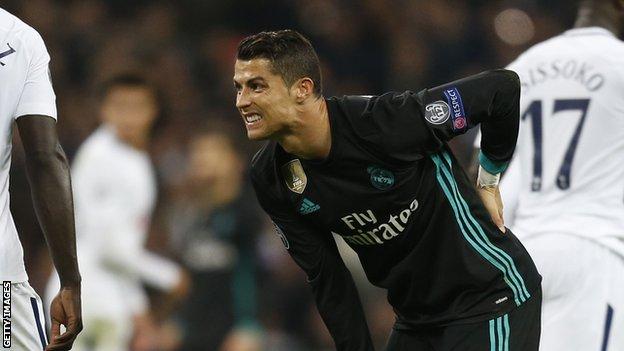 Turn the clock back 12 months to when Spurs were using Wembley as their Champions League home while White Hart Lane was being rebuilt, and it feels like an age away.
The timid performances and damaging defeats by Monaco and Bayer Leverkusen at Wembley left them holed below the waterline in a Champions League context at an early stage, with talk of a curse on Spurs at the national stadium given their poor record in other appearances.
It continued at the start of this season when they lost at home to Chelsea and drew with Burnley and Swansea City - but now this is starting to feel like home.
The Carabao Cup defeat at home to West Ham United was disappointing, although that competition always felt like an unwanted interruption on Pochettino's calendar.
The 4-1 thrashing of Liverpool and this win against Real show that any supposed mental block, any struggle to adjust to unfamiliar surroundings, is now a thing of the past. For now, in front of a crowd of 83,782, Wembley is very much home for Spurs.
Must Spurs be considered serious Champions League contenders?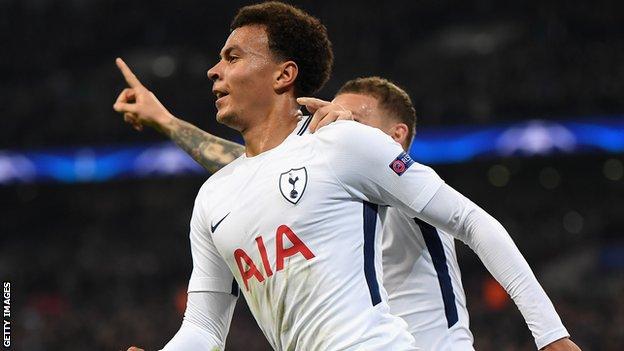 Pochettino's lack of a trophy since he arrived at Spurs from Southampton in 2014 has been something of a narrative running alongside his outstanding work.
It is a situation he and Spurs need to remedy soon. The best sides win trophies and up to now this has been an omission on Pochettino's increasingly impressive C.V.
Pochettino admitted in the afterglow of Wednesday's win that Spurs now need to move to the next stage of their development, which is to add silverware to the obvious talent and growing consistency they now possess.
If the Argentine does indeed regard the Premier League and Champions League as the proper indicators of such progress, then Spurs still face a tough task.
Manchester City have made an ominous start to the Premier League season while their 4-2 win at Napoli was a measure of their threat in the Champions League.
Spurs, however, will garner huge self-belief from events at Wembley as they swept aside a Real Madrid team that has been a dominant force in the Champions League in recent years.
When Spurs get it right, which they do with increasing regularity, they have the capacity to beat any opponent - the question marks come with the reminder that they have come up just short in the last few years.
It may just be that they need to take one or two more steps in their development but they should not be dismissed as Champions League contenders.
If they play with such assurance and verve as they did to dismantle Real Madrid, then they need fear no-one and none of those remaining in the Champions League will relish meeting Spurs.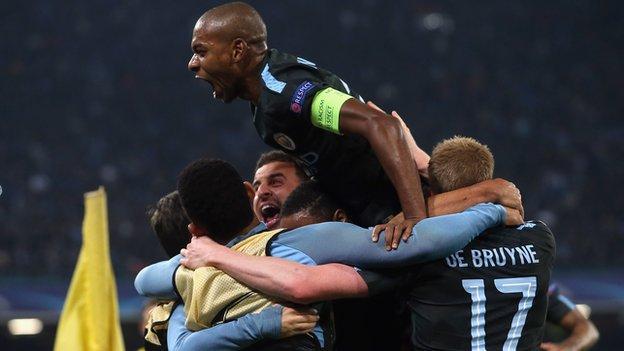 Premier League elite march on in Europe
The Champions League has provided slim pickings for Premier League sides in the recent era, Chelsea's win against Bayern Munich in the Allianz Arena in 2012 bringing the last success.
Leicester City were the final English club represented when they went out in the quarter-final to Atletico Madrid last season - but are the giants beginning to stir once more?
With five representatives this season - Chelsea, Liverpool, Manchester City, Manchester United and Spurs - there are signs that some form of recovery is under way.
In 20 group games played so far by English clubs this season, Chelsea's 3-0 loss to Roma is the only reverse. They are the only English side not topping their group but are still in a very good position to make the knockout stage to give the Premier League a strong presence in the last 16.
Performance of teams from Europe's big four leagues in the Champions League this season

Country

P

W

D

L

F

A

GD

England

20

15

4

1

56

17

+39

Spain

16

7

6

3

25

16

+8

Germany

12

4

3

5

17

20

-3

Italy

12

5

3

4

20

18

+2
Spurs' win put down a marker for their strength by beating Real, while Manchester City were equally impressive with a dazzling win in Naples against the unbeaten Serie A leaders.
City's big spending in the summer and manager Pep Guardiola's adjustment after a transitional first season has brought them back into contention, while Manchester United manager Jose Mourinho also spent big in readiness for a tournament he has won with Porto and Inter Milan.
Nevin said: "Last season was the big transition period for English football and it has now happened.
"Manchester City had a massive transitional season but I think they are now powers again. Tottenham were slowly and surely getting better too but English football teams are back now as the power league again.
"It has taken a long time but I think they have taken over from the Spanish and it is really only Paris St-Germain and Bayern Munich who are arguing against them.
"A lot of people will argue and say Barcelona are great. Yes they are, but it has been a while since we can argue that English clubs are back."
How far this development takes the Premier League's quintet remains to be seen - but the Champions League group standings make for pleasant reading.
If you are viewing this page on the BBC News app please click here to vote.