Mauricio Pochettino: We are among Europe's best, says Tottenham boss
Last updated on .From the section Football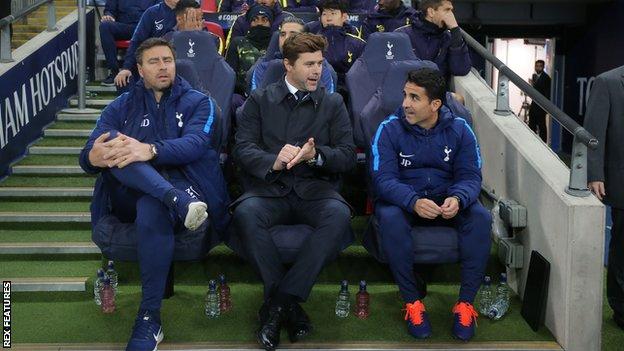 Tottenham have proved they belong among Europe's elite by beating Real Madrid, manager Mauricio Pochettino says.
His side qualified for the Champions League knockout stages with Wednesday's 3-1 win over the holders at Wembley - their first against Real.
"We now belong not only with the best in England, but in Europe," he said.
"What we have to do is move to the next level and that is winning things. We're pleased, but it will mean nothing if we have not won anything."
If you are viewing this page on the BBC News app please click here to vote.
Tottenham, in the Champions League knockout stages for the first time since 2011, last won a trophy - the League Cup - in 2008.
"What is important is that we are in to the next round," added Pochettino, whose side have 10 points from their four Group H games, three more than second-place Real.
"We were out with two games to play last season, but this year we are in a very difficult group. We are through, so it is important for us to show we are going through a phase of consolidation.
"We are starting to believe in our potential and qualities. We are able to compete with teams now on a physical and mental level.
"This sort of win has consequences in terms of making us more visible. It's something that everyone around Europe will have seen."
Dele Alli scored twice and Christian Eriksen added the third for Spurs, while Cristiano Ronaldo scored a consolation for the visitors.
England midfielder Alli, competing in his first Champions League match of the season, was praised for his display.
"It was a great opportunity for him to show his qualities - a fantastic opportunity playing against Real Madrid at Wembley," said Pochettino.
"It was a big motivation for him to play and he could have had a hat-trick.
"He was fantastic. We were starting to feel that it was coming and he was getting better and better every day. We need him to be at his best to try to help the team achieve the things it wants to achieve."