Swansea City: Clement says transfer business has been 'mixed'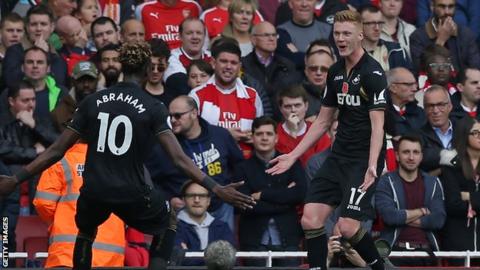 Swansea boss Paul Clement admits the transfer business done by the club over the summer resulted in 'mixed' results.
The Swans re-signed striker Wilfried Bony and midfield trio Rentato Sanches, Sam Clucas and Roque Mesa, while striker Fernando Llorente and playmaker Gylfi Sigurdsson left the Liberty.
"We are still waiting for some players to get up to speed because they have lost time through injury," he said.
"I'm talking about about Wilfried and Renato in that sense."
"Our own recruitment has been mixed," he added.
"Roque (Mesa) is making that adaptation. Sam (Clucas) I think is getting up to speed.
"So I think the players we have recruited are going to come stronger a little bit later rather than sooner."
Clement is debating whether to gamble on the fitness of striker Bony ahead of Saturday's Premier League home game with Brighton.
Bony has missed the last four league and cup games with a hamstring injury.
The Swans are definitely without Sanches, Martin Olsson and Leon Britton.
"Wilfried is the closest. Looking ahead to this weekend, I'd rate him as 50-50 to be involved in the squad," said Clement.
Asked if he would gamble on the Ivory Coast international, Clement said: "That is what I have to weigh up because of the time he has missed with the injury he has had, it has been the second injury as well.
"We don't want to risk him too much and put him even further back.
"But I also want him back as quick as possible to be involved and to help us."
Bony has made just three starts and has yet to score since returning to the Swans during the summer for £12m from Manchester City. But Clement is convinced he could add to the club firepower.
"There has been lot of responsibility on Tammy Abraham's shoulders and he's come up with four goals in the league.
"But we need other players to help in providing goals and also scoring goals. With Wilfried in the team I think we have a better chance of doing that."
Bayern Munich loanee Sanches is still ruled out with a thigh injury, while defender Olsson has a hamstring problem and midfielder Britton is ill.
The Swans are currently 17th in the table, just outside the bottom three on goal difference with eight points.
Clement said he was pleased after on-loan Chelsea forward Abraham received a maiden England call-up.
"It's very pleasing news to see someone we've brought to the club on loan rewarded with his first call-up," said Clement.
"His all-round game is developing, including back-to-goal and defensive positioning.
"He's been picked on merit and we wish him well."