Celtic's Kieran Tierney happy to repay Rodgers' faith
Last updated on .From the section Football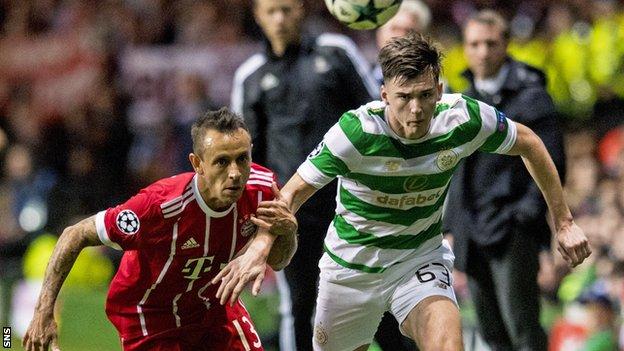 Celtic's Kieran Tierney has thanked manager Brendan Rodgers for backing him to succeed and says he is benefiting from playing in the Champions League.
"I've got a lot to thank him for," said the left-back of boss Brendan Rodgers.
"He made it happen by putting faith in me and trusting me in the big games and that's why I got it [the new deal]."
The Celtic manager described Tierney as "a really special player" after his performance in the 2-1 defeat by Bayern Munich in Tuesday's Champions League home match, when he came up against Dutch winger Arjen Robben.
"It's making me a better player, more switched on, getting fitter as well," said the left-back of European football's elite tournament.
"Coming up against the best players in the world so young, it is only going to benefit me.
"I know I'm still young and have a lot of learning to do and I'm under the right manager to do that, so I'm so happy.
"The club thought I was doing well enough and rewarded me with a good contract and I'm delighted.
"I've always had aspirations to play with Celtic. I'm very happy here and that's why I signed a long-term deal. It's great for both parties."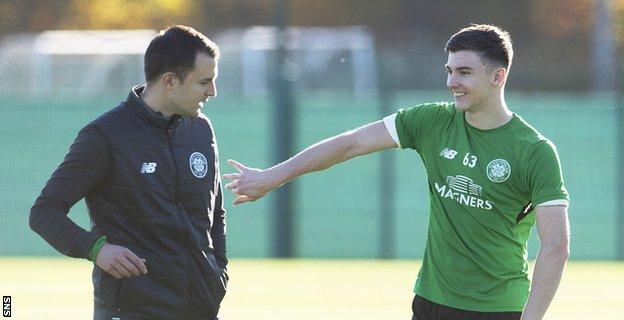 Celtic's assistant manager Chris Davies revealed that Tierney was a standout player to Rodgers and the rest of the Celtic coaching staff from the very first training session they took two summers ago.
"He's got an energy and enthusiasm that you can't miss, you see it in training and in games," said the Englishman.
"I can remember our first training session, he stood out. It was instant, you could see the way he moved, the way he pressed the ball, his quality on the ball. He inspires even older players to perform.
"Is there a better left-back in Britain? Kieran is right up there with the best. There are obviously players at the top Premier League clubs who are all very good left-backs as well, but Kieran is working towards that level.
"There is no pressure on him right now, he is still developing. He is happy and that's the main thing.
"He's just played in the Champions League against one of the best wingers in the world and played really well.
"There's not a lot higher you can go in terms of status of game. He can play at the top for many years.
"He's everything you want in a left-back, good speed, good engine, aggressive, uses the ball well, very good defender."