Bailey Wright: Bristol City 'hugely surprised' at defender's ban for simulation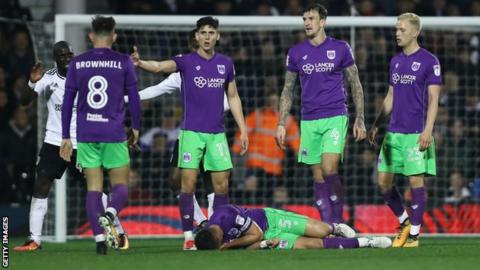 Bristol City say they are "hugely surprised" and will consult lawyers after Australian defender Bailey Wright was found guilty of simulation and banned for their next two matches.
Wright, 25, went down in an off-the-ball incident involving Fulham's Aboubakar Kamara in Tuesday's 2-0 win.
Kamara was sent off but the Football Association has rescinded his red card.
City chief executive Mark Ashton said: "On receiving the written reasoning, we will be consulting our legal team."
Wright's ban is the second for "deceiving a match official" in English football, after Carlisle's Shaun Miller was suspended in October.
However, it is the first instance of a player being punished for an act of deception that resulted in an official showing a red card to an opponent.
City, who are fourth in the Championship, said they "prepared a detailed response" and supportive video evidence - which appears to show Kamara pushing Wright in the chest - for the panel who reviewed the incident.
Ashton added: "We will be without Bailey for Saturday's Severnside derby with Cardiff, which is a clear injustice against Bailey, the team, the club and its loyal supporters.
"This is a clear case in which there has been genuine contact between two players, which has caused Bailey to fall to the ground involuntarily and he has made no attempt to deceive the referee whatsoever."
The new procedures for 2017-18
This is the first season in which the FA has been able to retrospectively ban players for simulation.
A three-member FA review panel, which is changed each week and consists of one former match official, one ex-manager and one former player from a pool of 13, assess alleged occurrences of simulation and have to be unanimous before a charge is made.
Only incidents that result in a player winning a penalty or lead to an opponent being sent off - through either a straight red card or two yellow cards - will be punished.
The FA says it will act "where there is clear and overwhelming evidence to suggest a match official has been deceived by an act of simulation, and as a direct result, the offending player's team has been awarded a penalty and/or an opposing player has been dismissed".
These type of bans have been used in Scottish football since 2011.