James Collins: Defender quit Wales to prolong West Ham career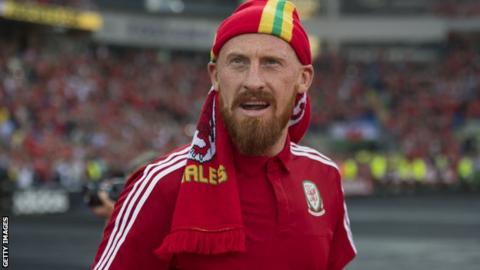 Defender James Collins says trying to earn another contract at West Ham United was a factor behind his international retirement.
The 34-year old has quit international football after earning 50 caps.
"My club career was another factor, I've only got this season at West Ham, I'm 34 now and I need to get as much rest as I can in between games," Collins told BBC Sport Wales.
Collins added that he would remain available for Wales in an emergency.
The former Cardiff City defender is out of contract with the Hammers at the end of this season and is looking to earn a new deal to remain in east London, having rejoined the club from Aston Villa for a second spell in 2012.
"I need to try and cement a contract for next year and beyond," he said.
"I don't want this to be the start of the end, because I feel great physically.
"But those 10-day trips away, I probably need the rest now instead… to prolong my career and play in the Premier League as long as I can. It was a step I felt I had to take."
Collins, who helped Wales to reach the semi-finals of Euro 2016, says he has been thinking about quitting international football since the tournament in France, but will remain an option for his country.
"I've been thinking about it for a while, after the Euros really," he said.
"I thought finishing after the semi-finals of the Euros would be a big call, but then we had the World Cup qualifiers to look forward to.
"But something in my head said it was time, at the end I wondered if I was hanging around a bit too long at the end.
"I spoke to the gaffer (Wales manager Chris Coleman) and he was great with me, unbelievable. I said I was thinking of taking this step, but that I would always be available if I was needed and if I was still playing at a good level at West Ham.
"So you never know, it might not be the end, but I am retired at the minute."
Collins believes he leaves the international set-up with Wales in rude health, especially with a new crop of young players such as Ethan Ampadu and David Brookes ready to follow Ben Woodburn in making the breakthrough.
"Welsh football I think is in the best state it has ever been in. After the Euros, despite the major disappointment of not going to the World Cup, from where we were when I started we are a million miles away," he explained.
"I think the quality of the young players coming through might have been in the back of my mind when I made my decision to retire.
"Seeing these young lads come through and they might be coming into the squad and looking at me and thinking 'Jesus, he is still in the squad!' That might have had an impact.
"I've seen the lads coming through and they are going to be just as good as the lads in the squad now and help to take us forward in the years to come.
"It all looks good, even though everyone is disappointed we didn't qualify for the World Cup."