Mohamed Salah: Liverpool's best goalscorer since Luis Suarez?
Last updated on .From the section Football159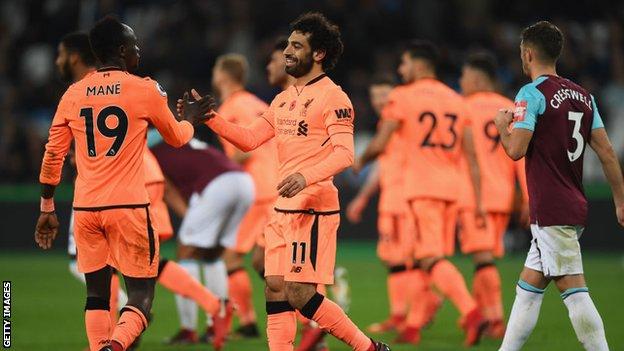 Liverpool appear to have found their new Luis Suarez.
Just three months into the season and Mohamed Salah is already on the verge of becoming the Reds' best goalscorer since the Uruguay international left after another impressive performance at the weekend.
Plus, why it's worrying times for West Brom and the players who are making their mark from off the bench.
BBC Sport takes a look at some of the statistics from the latest action in the Premier League.
Salah - Liverpool's best signing since Suarez?
Was Liverpool's purchase of Salah for £34m the signing of the summer? The Egyptian winger is certainly making a strong case to suggest he was.
Sent packing by Chelsea in 2015 - first on loan to Roma before joining the Italian club permanently last year - the 25-year-old has returned to England a completely different player.
He scored two goals in 13 appearances for the Blues but in just three months at Liverpool he is already on the verge of becoming the club's leading scorer in a single season since Luis Suarez's final campaign for the Reds in 2013-14.
Suarez hit 31 goals in that campaign and no player has scored more than 14 in a season since. Salah is already on 12 and we're only at the start of November.
Liverpool's top scorers since Suarez left in 2014

Season

Player

Goals

2016-17

Philippe Coutinho

14

2016-17

Sadio Mane

13

2015-16

Daniel Sturridge

13

2014-15

Steven Gerrard

13

2017-18
Mohamed Salah
12

2016-17

Roberto Firmino

12

2015-16

Philippe Coutinho

12
Dig a little deeper and Salah's stats are even more impressive.
He has scored more goals after 17 games than Suarez and Fernando Torres had at the same stage of their Liverpool careers, despite not playing as an out-and-out striker unlike those two.
Meanwhile, his three assists means he has played a part in 15 goals this season. Again, more than either Suarez or Torres.
And perhaps the worrying thing for Salah's future opponents is that he should arguably have scored more goals than he has.
He missed a penalty against Huddersfield last month and in just 11 Premier League games he has had 37 shots on goal, 24 of those on target.
Pep's best-ever start to a campaign?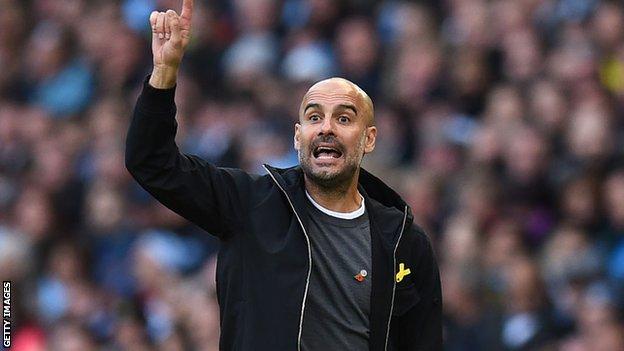 We're running out of superlatives to describe Manchester City's season so far.
Pep Guardiola's side recorded their ninth consecutive Premier League win by brushing aside Arsenal 3-1 on Sunday to move eight points clear at the top of the Premier League.
They have 31 points from 11 games and that, coupled with a +31 goal difference, is the best-ever start to a Premier League season.
But is it Guardiola's best-ever start to a season as a manager? The former Spain international has managed Barcelona and Bayern Munich, so he must have had a better start, right?
"We score a lot of goals," he said after Sunday's win. "I can't remember if I start that well in any of my previous teams."
Well, let's take a look.
In his four seasons at Barcelona, Guardiola's best points return after 11 games was 28 points - achieved in both his first and third years at the Spanish giants - but at Bayern he did match the points tally he has just reached at City.
That came in his final season at the German club, when they won 10 and drew one of their first 11 fixtures, However, on that occasion Bayern had a goal difference of +29, two short of City's current goal difference.
City's slickers to take scoring record?
City have now scored 52 goals in all competitions with their opener against Arsenal seeing them equal the record they themselves set in 2011-12 of reaching a half century of goals scored in the fewest amount of games.
Thirty eight of those goals have come in the league, which is 15 more than any other side has scored in the top flight and they appear well on course to surpass the record number of goals scored in a single Premier League season.
In 2009-10, Chelsea hit 103 goals on their way to winning the title. City are currently averaging 3.5 goals per game and if you extrapolate that over the course of a 38 game season then would be looking at a total of 133 goals.
Even allowing for a dip in goalscoring form it is hard to see Guardiola's side not making this a record-breaking season in front of goal.
Count on Crouchy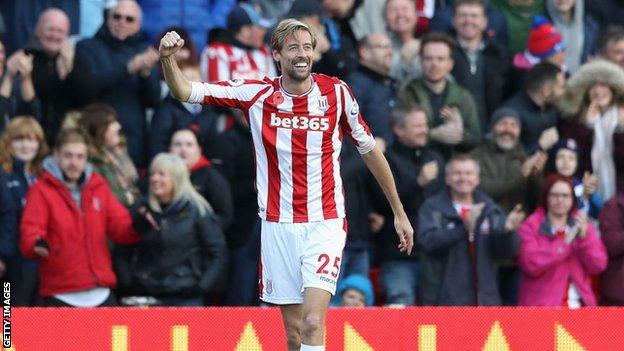 If someone, years from now, looks up the definition of 'super sub' they may well be greeted by an image of grinning Peter Crouch.
The 36-year-old Stoke striker is proving there's plenty of life left in those long legs after coming on in the second half to rescue a point for the Potters against Leicester on Saturday.
That was the third goal he has scored this season having started as a substitute and 15th in his career from off the bench. Only three players have managed more.
Crouch isn't the highest scoring substitute in the Premier League season, that's Manchester United's £36m forward Anthony Martial, but the England international's goals have been more valuable to his side.
Only one of Martial's four goals was a match winner with the other three in games where Manchester United were already at least two goals up. One of Crouch's strikes earned Stoke three points while his other two rescued draws.
Baggies lacking bounce
Crystal Palace's terrible start to the season has dominated the headlines but West Brom have quietly been on a horrible run themselves.
The Baggies have won just two of their last 20 games in the Premier League, the worst sequence of any side currently in the top flight.
Premier League since 1 April

Games

Wins

Draws

Losses

Points

Points per game

Man City

21

16

4

1

52

2.48

Tottenham

21

16

2

3

50

2.38

Chelsea

21

15

1

5

46

2.19

Arsenal

21

14

2

6

44

2.10

Liverpool

21

12

6

3

42

2

Man Utd

22

11

7

4

40-

1.82

Brighton

11

4

3

4

15

1.36

Huddersfield

11

4

3

4

15

1.36

Burnley

20

7

6

7

27

1.35

Leicester

21

7

6

8

27

1.29

Newcastle

11

4

2

5

14

1.27

Southampton

22

6

8

8

26

1.18

Bournemouth

20

6

5

9

23

1.15

Watford

21

7

3

10

24

1.14

Hull

9

3

1

5

10

1.11

Swansea

20

6

4

10

22

1.10

West Ham

20

5

6

9

21

1.05

Everton

20

6

4

10

22

1.1

Stoke

20

5

5

10

20

1

Crystal Palace

20

5

2

13

17

0.85

Middlesbrough

10

1

3

6

6

0.60

West Brom

20

2

6

12

12

0.60

Sunderland

10

1

1

8

4

0.40
Since 1 April, the Baggies have the second worst points-per-game record of any side that has been in the Premier League during that time.
These are concerning times for Pulis, especially with the three clubs immediately around West Brom in the above table having had a change of manager during the same timeframe.
British record broken, European record next for Celtic?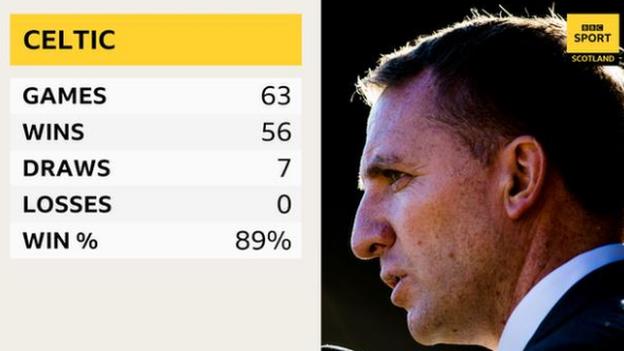 It was a historic weekend for Celtic as the reigning Scottish Premiership champions extended their unbeaten domestic run to 63 games, breaking their own record that had stood for 100 years.
Willy Maley's side went 62 league games unbeaten - pre-League Cup and during a Scottish Cup wartime hiatus - between 1915 and 1917 but Brendan Rodgers and his side have supplanted them in the history books.
Game one of the run was a 7-0 thrashing of Motherwell in May 2016 while game 63 saw Celtic beat St Johnstone 4-0. On the way they have scored 183 goals, conceding just 35.
While the run is a British record, Celtic still have some way to go to set a new European record. That currently belongs to Steaua Bucharest, with the Romanian side going 104 games unbeaten during the late 1980s.